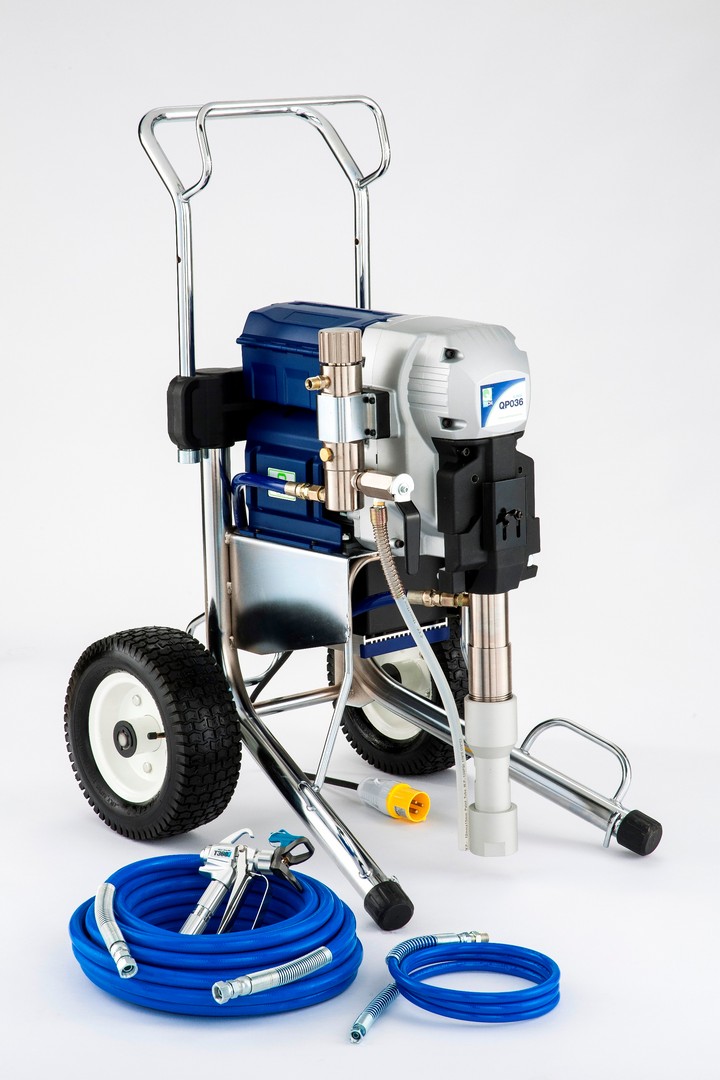 Airless Sprayer QP036
Product Code: 02/0064-h
This versatile and portable range of sprayers is highly reliable. The units will spray gloss, varnish, stain, undercoat, emulsion and smooth masonry paint and can accommodate jobs on any scale.
---
Features and Benefits
A unique fluid section design and EZ- Swing-in style frame make this powerful airless sprayer ideal for applying ultra heavy materials. The Powrtwin 6900XLT DI is the most portable petrol and electric heavy material sprayer available today. Easily converts from petrol to electric in less than 30 seconds. This machine is ideal for spraying intumescents/fire retardants. Your Powrtwin keeps your crew on the job making you money. Powerful easy-start Honda OHV gasoline engine is equipped with low-oil shutdown to prevent damage due to low oil level. Cast iron cylinder sleeve lengthens engine life. It offers automatic compression relief for fast, easy starts. 2 HP Extended Life exl-DCT Electric motors run whisper quiet without starting or stopping. The Powrtwin 6900XLT DI comes complete with 5 mesh outlet filters , 3/8 airless hose, 1/4 x 6' airless whip and SGX-20 airless gun. A heavy material outlet manifold and oversized pressure bleed valve are also included for pumping ultra-heavy materials and fine to medium aggregated textures.
Specifications
| | |
| --- | --- |
| Cycles per Gallon | 55g |
| Decibel Reading: dB[A] | 85 |
| Engine | 5.5HP Honda |
| Max Operating Pressure | 227 bar (3300 psi) |
| Motor | 110v or 230v Extended Life - DC |
| Portable Transformer | 3kw |
| Product Model | 448-360 - 6900XLTDI |
| Voltage: V | 110v |
| Weight | Petrol - 67kg / Electric - 74kg |
Product Comparison
| Product Name | Decibel Reading: dB[A] | Head Sizes | Max Operating Pressure | Portable Transformer | Power Input | Product Model | Voltage: V | Weight | Cycles per Gallon | Engine | Motor | Price |
| --- | --- | --- | --- | --- | --- | --- | --- | --- | --- | --- | --- | --- |
| Airless Sprayer QP021 | 80 | 0.63mm | 207 bar (3000 psi) | 5kva | 1300w | QP025 | 110v | 35kg | N/A | N/A | N/A | |
| Airless Sprayer QP036 | 85 | N/A | 227 bar (3300 psi) | 3kw | N/A | 448-360 - 6900XLTDI | 110v | Petrol - 67kg / Electric - 74kg | 55g | 5.5HP Honda | 110v or 230v Extended Life - DC | |
| Airless Sprayer QP025 | 80 | 0.58mm max | 207 bar (3000 psi) | 5kva | N/A | 765-3010 - 640i | 110v | Stand - 17.8kg. Cart - 24.8kg | N/A | N/A | N/A | |