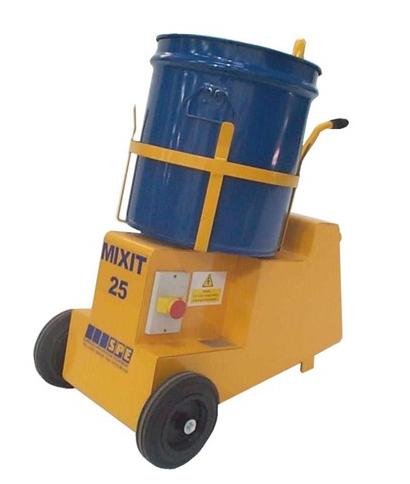 Forced Action Mixer 110v
Product Code: 03/0135-h
The SPE Mixit 25 pan mixer was developed to mix promptly and effectively a wide range of materials. The mixer is driven by a sealed motor and gearbox. An optional perforated paddle is robust and portable, offering the user high output and single handed operation.
---
Features and Benefits
The Mixit 25 is an electrically driven machine available in both 110v and 240v single phase, and also 3 phase 415v model.
Specifications
| | |
| --- | --- |
| Capacity | 32ltr |
| Height | 813mm |
| Length | 700mm |
| Power Output | 750w |
| Product Model | MIX25-1 |
| RPM | 58 |
| Voltage: V | 110v |
| Weight | 43kg |
| Width | 460mm |
Product Comparison
| Product Name | Capacity | Height | Length | Power Output | Product Model | RPM | Voltage: V | Weight | Width | Decibel Reading: dB[A] | Mix Batch Output | Mixing Capacity | Portable Transformer | Price |
| --- | --- | --- | --- | --- | --- | --- | --- | --- | --- | --- | --- | --- | --- | --- |
| Forced Action Mixer 110v | 32ltr | 813mm | 700mm | 750w | MIX25-1 | 58 | 110v | 43kg | 460mm | N/A | N/A | N/A | N/A | |
| MIX 120 PLUS | N/A | 1277mm | 842mm | 1.4kW | N/A | 38 | 110v | 130kg | 745mm | 70 | 90tr | 120ltr | 5kva | |