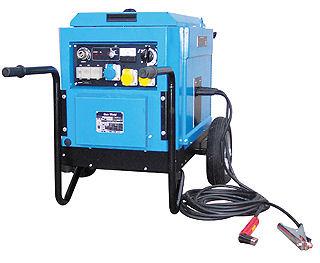 Welder Diesel 200a
Product Code: 04/0110-h
Suitable for a wide range of welding applications. Powered by a diesel engine with an electric start. Mounted on a robust chassis, these units are ideal for construction site use. A wide variety of auxiliary outputs are available.
---
Features and Benefits
The auxiliary generating output on the Genset welder range can be coupled together without the need for any additional control equipment. It has the following features: - brushless alternator, smooth wave form suitable for powering sensitive equipment e.g. Plastic welding equipment, computer etc; low oil level cut out device, transistorised ignition, capable of welding cellulosic electrodes, complies to EEC noise regulations, circuit breaker protection and is HF protected.
Specifications
| | |
| --- | --- |
| Amp Output | 30 - 200a |
| Auxillary Power Options Simultaneous with Welding 110 volt | 110v |
| Continuous Welding with 4.0mm Electrodes | Yes |
| Decibel Reading: dB[A] | 60 |
| Diesel Engine Type | Kubota |
| Duty Cycle @ 60% | 150a |
| Engine | L 100 AE |
| Fuel | Diesel |
| Fuel Tank Capacity | 21ltr |
| Height | 700mm |
| KVA | 3kva |
| Length | 1.07m |
| Max electrode size | 4mm |
| Power Output 110V | 3kva |
| Product Model | MPM 5/180SSY |
| Rating output kw | 4kw |
| Running Time | 10hrs @ 75% load |
| Sound Power Level: Lw dB[A] | 98 LWA |
| Weight | 185kg |
| Welding Output Dc Range Amps | 40 - 180a |
| Width | 570mm |
Product Comparison
| Product Name | Amp Output | Auxillary Power Options Simultaneous with Welding 110 volt | Continuous Welding with 4.0mm Electrodes | Decibel Reading: dB[A] | Diesel Engine Type | Duty Cycle @ 60% | Engine | Fuel | Fuel Tank Capacity | Height | KVA | Length | Max electrode size | Power Output 110V | Product Model | Rating output kw | Running Time | Sound Power Level: Lw dB[A] | Weight | Welding Output Dc Range Amps | Width | Maximum Rod Size | Power Output 240V | Power Output 415V | Price |
| --- | --- | --- | --- | --- | --- | --- | --- | --- | --- | --- | --- | --- | --- | --- | --- | --- | --- | --- | --- | --- | --- | --- | --- | --- | --- |
| Welder Diesel 200a | 30 - 200a | 110v | Yes | 60 | Kubota | 150a | L 100 AE | Diesel | 21ltr | 700mm | 3kva | 1.07m | 4mm | 3kva | MPM 5/180SSY | 4kw | 10hrs @ 75% load | 98 LWA | 185kg | 40 - 180a | 570mm | N/A | N/A | N/A | |
| GW 10/300 SSK Diesel Welder | 30 - 300a | N/A | N/A | 68 | N/A | N/A | N/A | N/A | N/A | N/A | N/A | N/A | 6mm | 3kva | N/A | N/A | 10.3hrs @ 75% load | N/A | 435kg | N/A | N/A | N/A | N/A | N/A | £300.00 / week |
| Welder / Generator Silenced Diesel 400a | 30 - 400a | N/A | N/A | 69 | N/A | 350a | Kubota D1105-E (ES) | Diesel | 34ltr | 1m | N/A | 1.6m | 8mm | 6kVA | N/A | N/A | 12.5hrs @ 75% load | N/A | 565kg | 300a | 840mm | 6mm | 8kVA | 12kVA | |
| Diesel Welder 600amp 1dyhr Rate | 60 - 500a | N/A | N/A | 94 | N/A | N/A | N/A | N/A | 63ltr | 0.95m | N/A | 1.68m | 8mm | 4kva | N/A | N/A | 12hrs @ 75% load | N/A | 30kg | N/A | 0.7m | N/A | 4kva | 18kva | |
| Diesel Welder 600amp Mwk50hr Rate | 60 - 500a | N/A | N/A | 94 | N/A | N/A | N/A | N/A | 63ltr | 0.95m | N/A | 1.68m | 8mm | 4kva | N/A | N/A | 12hrs @ 75% load | N/A | 30kg | N/A | 0.7m | N/A | 4kva | 18kva | |
| Diesel Welder 600amp Mwksbm Rate | 60 - 500a | N/A | N/A | 94 | N/A | N/A | N/A | N/A | 63ltr | 0.95m | N/A | 1.68m | 8mm | 4kva | N/A | N/A | 12hrs @ 75% load | N/A | 30kg | N/A | 0.7m | N/A | 4kva | 18kva | |
| Diesel Welder 600amp Mwkunl Rate | 60 - 500a | N/A | N/A | 94 | N/A | N/A | N/A | N/A | 63ltr | 0.95m | N/A | 1.68m | 8mm | 4kva | N/A | N/A | 12hrs @ 75% load | N/A | 30kg | N/A | 0.7m | N/A | 4kva | 18kva | |