500a Arcgen Weld Offshore Spec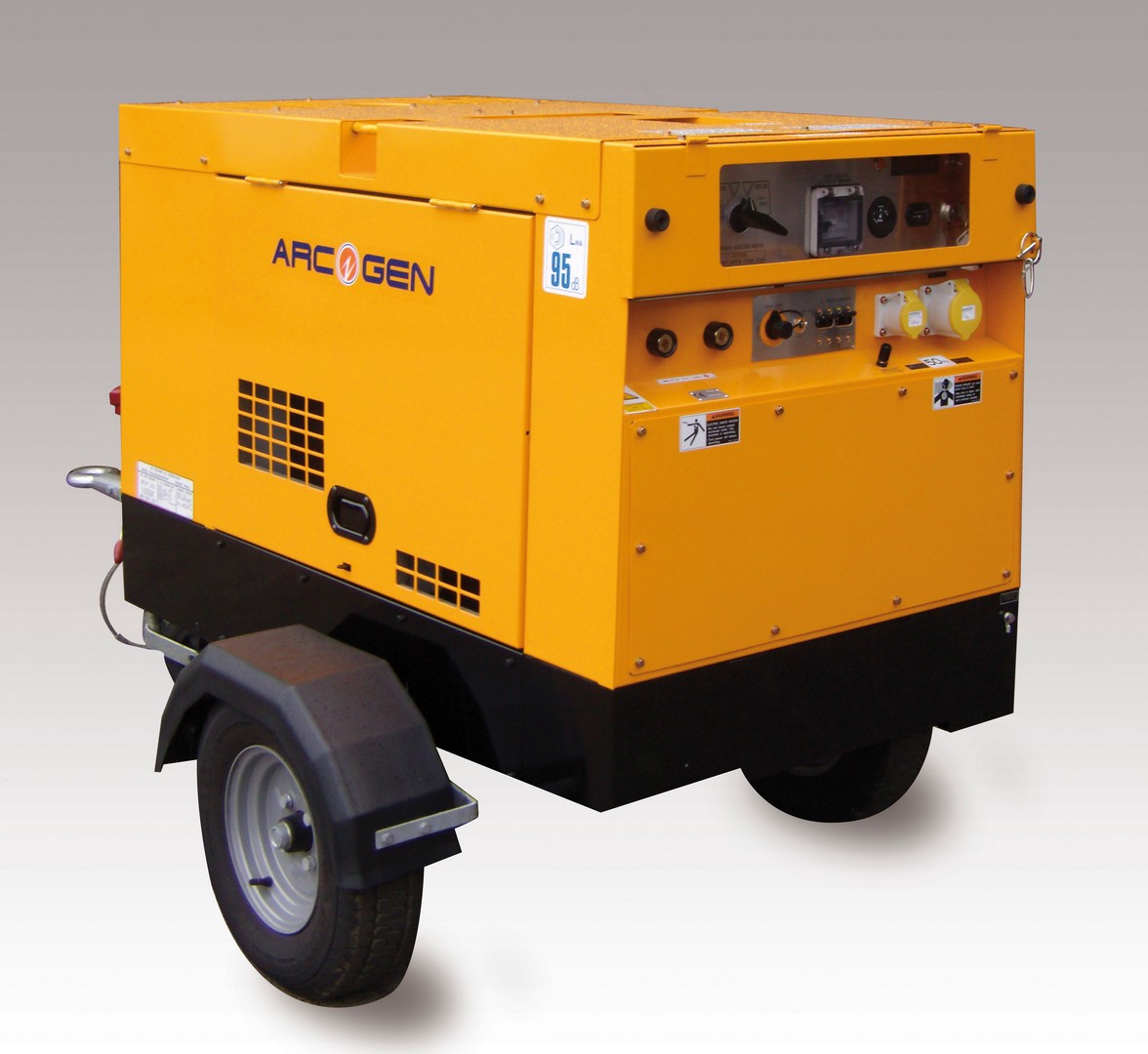 500a Arcgen Weld Offshore Spec
Product Code: 04/0141-h
Compact and lightweight, the Weldmaker 500SSD sets the industry standard for reliability and is one of the most robust and economical Welder Generators.
---
Features and Benefits
Super silent operation reduces noise pollution. Welding and auxiliary outputs can be used simultaneously. Infinitely variable amperage control for precise setting. Smooth welding characteristics for all types of manual metal arc electrodes including cellulosic types. Auto-idle giving up to 12 hours operation with no need to refuel. Brushless generator reduces maintenance costs.
Specifications
| | |
| --- | --- |
| Amp Output | 500a |
| Auxillary Power Options Simultaneous with Welding 110 volt | 3kw 110v AC |
| Decibel Reading: dB[A] | 68 |
| Duty Cycle @ 60% | 460a |
| Engine | Kubota D1703 |
| Fuel Tank Capacity | 45ltr |
| Height | 900mm |
| Length | 1.42m |
| Max electrode size | 10mm |
| Maximum Rod Size | 8mm |
| MMA onboard facility complete. With add ons Carbon ArcAir gouging\TIG\MIG capability with unit ad | Yes |
| Overall Length | 1.42m |
| Power Output 110V | 3kw 50hz |
| Product Model | WM500SSD |
| Running Time | 12hrs |
| Sound Power Level: Lw dB[A] | 95lwa 68 db(A) at 7m |
| Weight | 505kg |
| Welding Output Dc Range Amps | low - 40 to 300a; high - 250 to 500a |
| Width | 800mm |
Product Comparison
| Product Name | Amp Output | Auxillary Power Options Simultaneous with Welding 110 volt | Decibel Reading: dB[A] | Duty Cycle @ 60% | Engine | Fuel Tank Capacity | Height | Length | Max electrode size | Maximum Rod Size | MMA onboard facility complete. With add ons Carbon ArcAir gouging\TIG\MIG capability with unit ad | Overall Length | Power Output 110V | Product Model | Running Time | Sound Power Level: Lw dB[A] | Weight | Welding Output Dc Range Amps | Width | Fuel | Power Output 240V | Power Output 415V | Price |
| --- | --- | --- | --- | --- | --- | --- | --- | --- | --- | --- | --- | --- | --- | --- | --- | --- | --- | --- | --- | --- | --- | --- | --- |
| 500a Arcgen Weld Offshore Spec | 500a | 3kw 110v AC | 68 | 460a | Kubota D1703 | 45ltr | 900mm | 1.42m | 10mm | 8mm | Yes | 1.42m | 3kw 50hz | WM500SSD | 12hrs | 95lwa 68 db(A) at 7m | 505kg | low - 40 to 300a; high - 250 to 500a | 800mm | N/A | N/A | N/A | |
| 400amp Arcgen Weld Set Off Shore Spec | 400a | N/A | 69 | 350a | Kubota D1105-E (ES) | 34ltr | 1m | 1.6m | 8mm | 6mm | N/A | N/A | 6kVA | N/A | 12.5hrs @ 75% load | N/A | 565kg | 300a | 840mm | Diesel | 8kVA | 12kVA | |