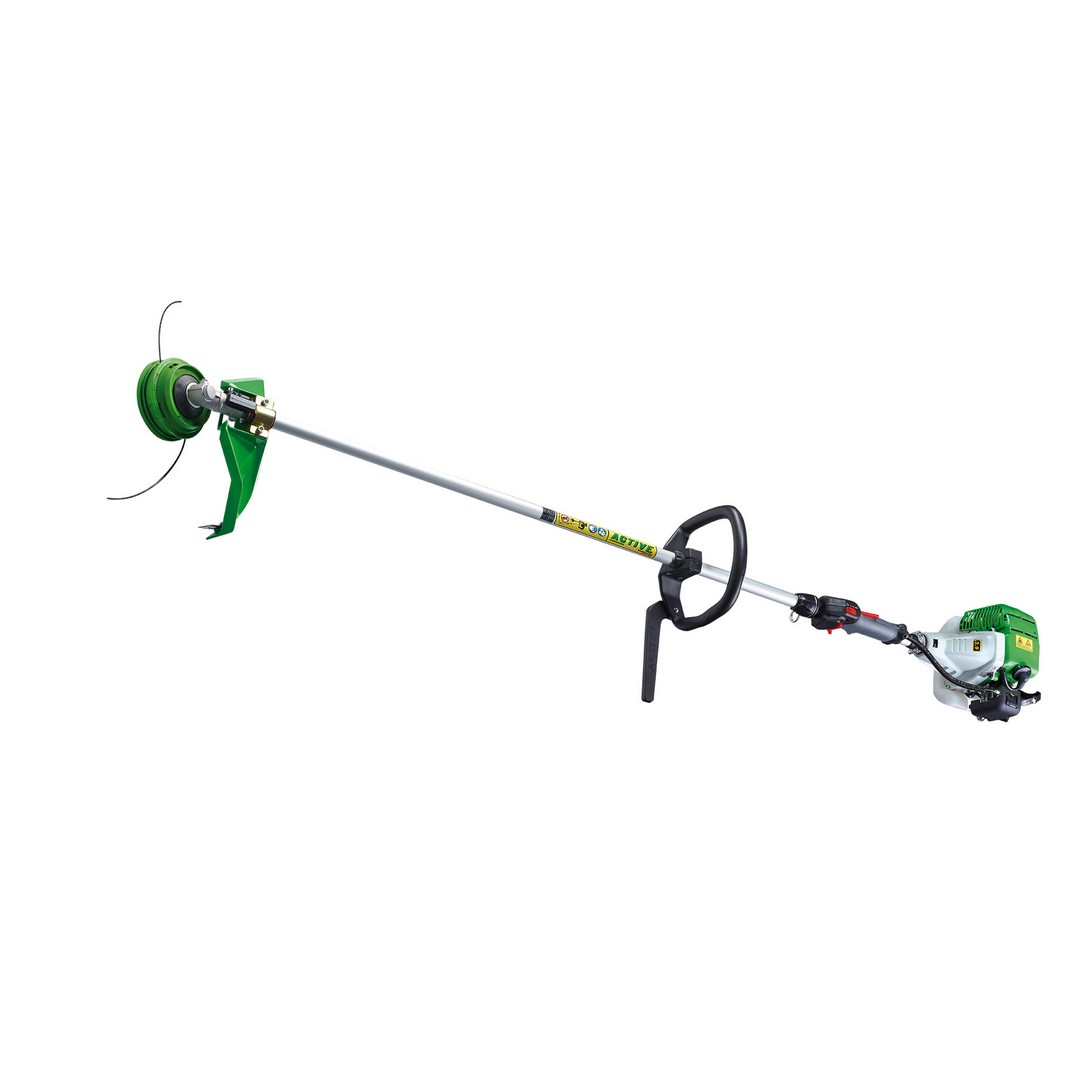 Strimmer Domestic
Product Code: 05/0022-h
Used in cutting down weeds, undergrowth and long grass. These machines are highly portable, giving access to awkward areas. They require minimum effort - just swing the head in the area to be cleared.
---
Features and Benefits
The engine and starter have been designed so the machine starts quickly with minimum effort. The resistance in the starter cord is reduced by 40%. Auto return stop switch automatically resets to the ON position for trouble free starting. Equipped with J-handle for greater versatility. Comfort handle - Soft grip handles for optimum comfort. Fuel pump designed for easy starting.
Specifications
| | |
| --- | --- |
| Decibel Reading: dB[A] | 110 |
| Fuel | 2 Stroke/Oil/Mix |
| Fuel Consumption | 550 g/kWh |
| Fuel Tank Capacity | 0.5ltr |
| Power Output | 1.03Kw |
| Product Model | ACT25L |
| Vibration Reading: m\s² | 5 |
| Weight | 4.8kg |
Product Comparison
| Product Name | Drive Gear Angle: ° | Fuel Tank Capacity: Ltrs | Fuel Type | Gear Ratio | No Load Speed: RPM | OEM Harness: | Power Output: kW | Product Brand | Product Model | Shaft Diameter: mm | Shaft Length: mm | Sound Power Level: Lw dB[A] | Sound Pressure Level: dB[A] | Weight: kg | Decibel Reading: dB[A] | Fuel | Fuel Consumption | Fuel Tank Capacity | Power Output | Vibration Reading: m\s² | Weight | Decibels | Power | Vibration Reading | Weight Dry | Price |
| --- | --- | --- | --- | --- | --- | --- | --- | --- | --- | --- | --- | --- | --- | --- | --- | --- | --- | --- | --- | --- | --- | --- | --- | --- | --- | --- |
| Husqvarna 135R Brushcutter c/w Harness 2-Stroke 6.8Kg | 36 | 0.6 | 2 Stroke | 2.4 | 8400 | Standard Double Harness | 1.4 | Husqvarna | 135R | 28 | 1483 | 114 | 115 | 6.8 | N/A | N/A | N/A | N/A | N/A | N/A | N/A | N/A | N/A | N/A | N/A | £60.00 / week |
| Strimmer Domestic | N/A | N/A | N/A | N/A | N/A | N/A | N/A | N/A | ACT25L | N/A | N/A | N/A | N/A | N/A | 110 | 2 Stroke/Oil/Mix | 550 g/kWh | 0.5ltr | 1.03Kw | 5 | 4.8kg | N/A | N/A | N/A | N/A | |
| Active Brushcutter | N/A | N/A | N/A | N/A | N/A | N/A | N/A | N/A | 40B | N/A | N/A | N/A | N/A | N/A | 99 | 2 Stroke/Oil/Mix | N/A | 1.1ltr | N/A | N/A | N/A | 99db(A) | 1.7kW | 4.6m/s² | 7kg | |