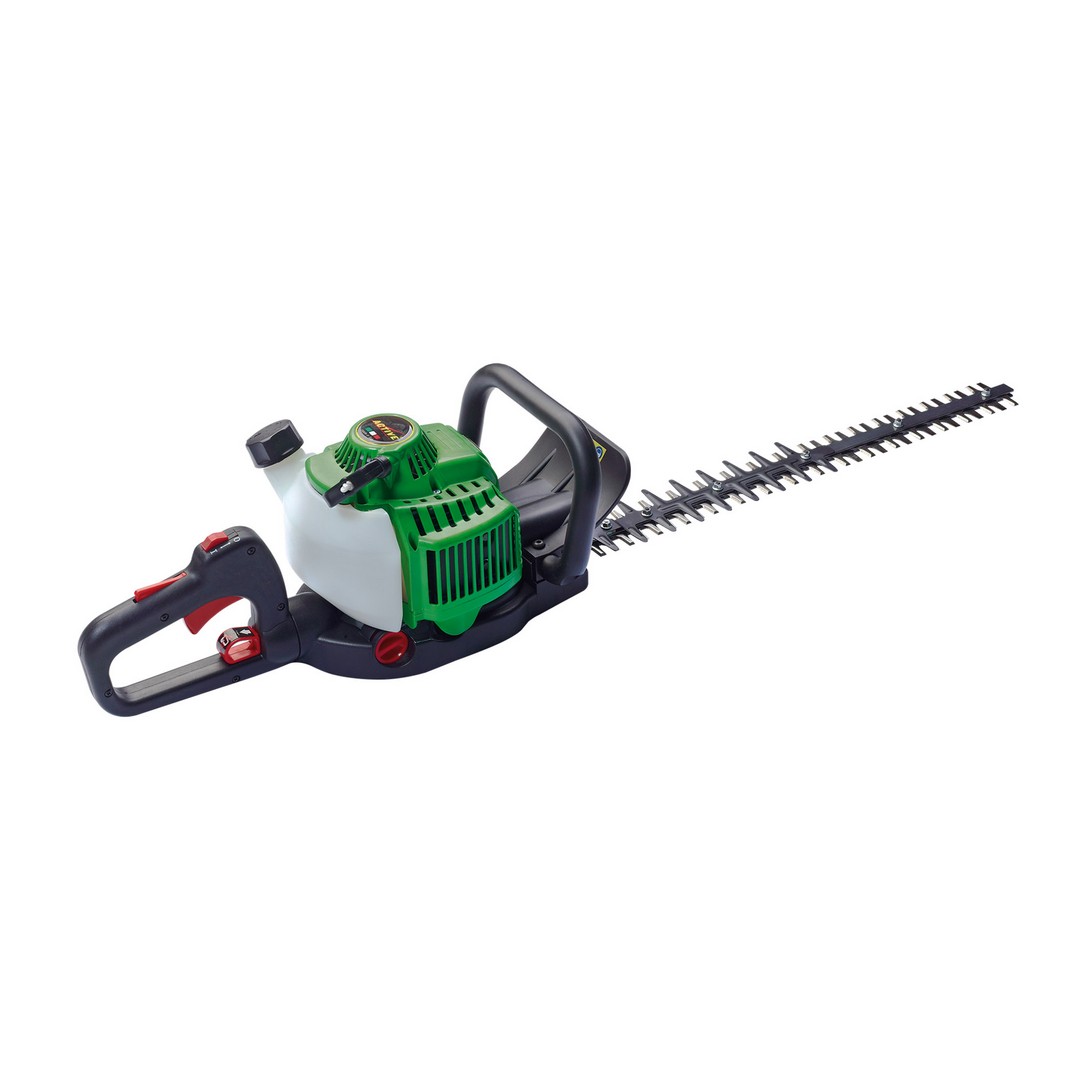 Hedge Trimmer 2 Stroke
Product Code: 05/0145-h
ACTIVE trimmers are particularly suitable for large plots of land, for taking care of parks and landscapes. Thanks to their long blades they act very well even on the highest or widest hedges; also strong and woody ones.
---
Features and Benefits
The engine and starter have been designed so the machine starts quickly with minimum effort. Resistance in the starter cord is reduced by up to 40%. Effective anti-vibration, sparing the user's arms and hands. Auto return stop switch automatically resets to the ON position for trouble-free starting. Adjustable rear handle to facilitate cutting the sides and top of hedges.
Specifications
| | |
| --- | --- |
| Weight | 5.5kg |
| Model | 2360HT |
| Decibel Reading: dB[A] | 110 |
| Fuel Tank Capacity | 0.5ltr |
| Cutting Speed | 4100 cuts/min |
| Power Output | 900KW |
| Length | 1200mm |
| RPM | 9000 |
| Fuel | 2 Stroke |
| Blade Size | 600mm |
| Vibration Reading: m\s² | 5 |
Product Comparison
| Product Name | Weight | Decibel Reading: dB[A] | Fuel Tank Capacity | Cutting Speed | Power Output | Length | RPM | Fuel | Blade Size | Vibration Reading: m\s² | Price |
| --- | --- | --- | --- | --- | --- | --- | --- | --- | --- | --- | --- |
| Hedge Trimmer 2 Stroke | 5.5kg | 110 | 0.5ltr | 4100 cuts/min | 900KW | 1200mm | 9000 | 2 Stroke | 600mm | 5 | |
| Hedge Trimmer Long Reach 2 Stroke | 6.6kg | 106 | 0.5ltr | 4184 cuts/min | 900w | 2.34m | 9000 | 2 Stroke | 550mm | 5 | |