Hedge Trimmer Long Reach 2 Stroke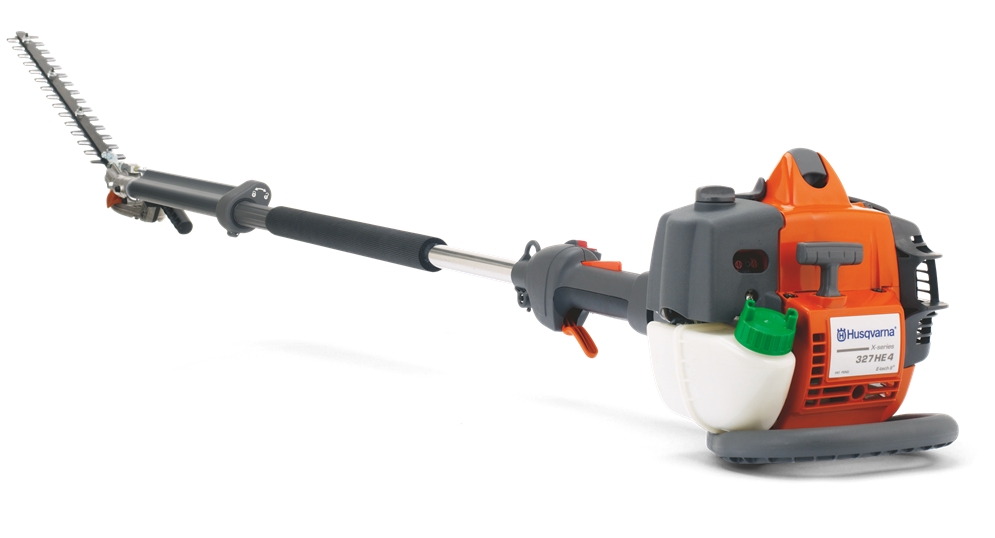 Hedge Trimmer Long Reach 2 Stroke
Product Code: 05/0159-h
Flexible, professional pole hedge trimmer with an adjustable cutter bar and extra long pole. Exceptionally comfortable and easy to use when cutting taller hedges, without having to use a ladder or cherry picker.
---
Features and Benefits
The machine can offer a very long cutting reach and the articulated head positively locks in any position. It has taper ground adjustable blades and comes with a harness. It also features: - comfort handles, a remote control for adjusting cutter bar, a rear impact guard and an arm rest. Also the cutting deck can be angled.
Specifications
| | |
| --- | --- |
| Weight | 6.6kg |
| Model | 327HE4X |
| Decibel Reading dB[A] | 106 |
| Fuel Tank Capacity | 0.5ltr |
| Cutting Speed | 4184 cuts/min |
| Power Output | 900w |
| Length | 2.34m |
| RPM | 9000 |
| Fuel | 2 Stroke |
| Blade Size | 550mm |
| Vibration Reading m\s2 | 5 |
Product Comparison
| Product Name | Weight | Decibel Reading dB[A] | Fuel Tank Capacity | Cutting Speed | Power Output | Length | RPM | Fuel | Blade Size | Vibration Reading m\s2 | Price |
| --- | --- | --- | --- | --- | --- | --- | --- | --- | --- | --- | --- |
| Hedge Trimmer 2 Stroke | 5.5kg | 110 | 0.5ltr | 4100 cuts/min | 900KW | 1200mm | 9000 | 2 Stroke | 600mm | 5 | |
| Hedge Trimmer Long Reach 2 Stroke | 6.6kg | 106 | 0.5ltr | 4184 cuts/min | 900w | 2.34m | 9000 | 2 Stroke | 550mm | 5 | |