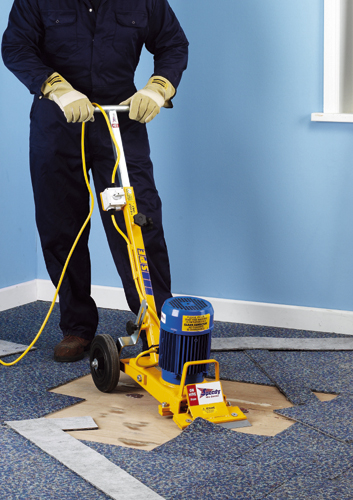 Floor Tile Stripper 110v
Product Code: 06/0220-h
Will remove vinyl tiles, carpet or residue build up. The blade angle can be adjusted according to the type of floor covering and adhesion.
---
Features and Benefits
The tile stripper is simple to operate, has a simple blade clamp to change blade and is a lightweight compact machine for confined areas.
Specifications
| | |
| --- | --- |
| Weight | 45kg |
| Model | FL001 |
| Decibel Reading dB[A] | 79.5 |
| Voltage | 110v |
| Power Rating | 2hp |
| Working Width | 230mm |
| Portable Transformer | 3kva |
| Vibration Reading m\s2 | 13.5 |
Product Comparison
| Product Name | Weight | Height | Width | Decibel Reading dB[A] | Voltage | Motor Speed | Working Width | Amps | Power Output | Portable Transformer | Length | Vibration Reading m\s2 | Generator Required | Power Rating | Price |
| --- | --- | --- | --- | --- | --- | --- | --- | --- | --- | --- | --- | --- | --- | --- | --- |
| Floor Tile Stripper Self Propelled 110v | 132kg | 1m | 480mm | 90.4 | 110v | 2800rpm | 330mm | 32a | 3Hp | 5kva | 1.1m | 9.4 | 8kva | N/A | |
| Floor Tile Stripper 110v | 45kg | N/A | N/A | 79.5 | 110v | N/A | 230mm | N/A | N/A | 3kva | N/A | 13.5 | N/A | 2hp | |