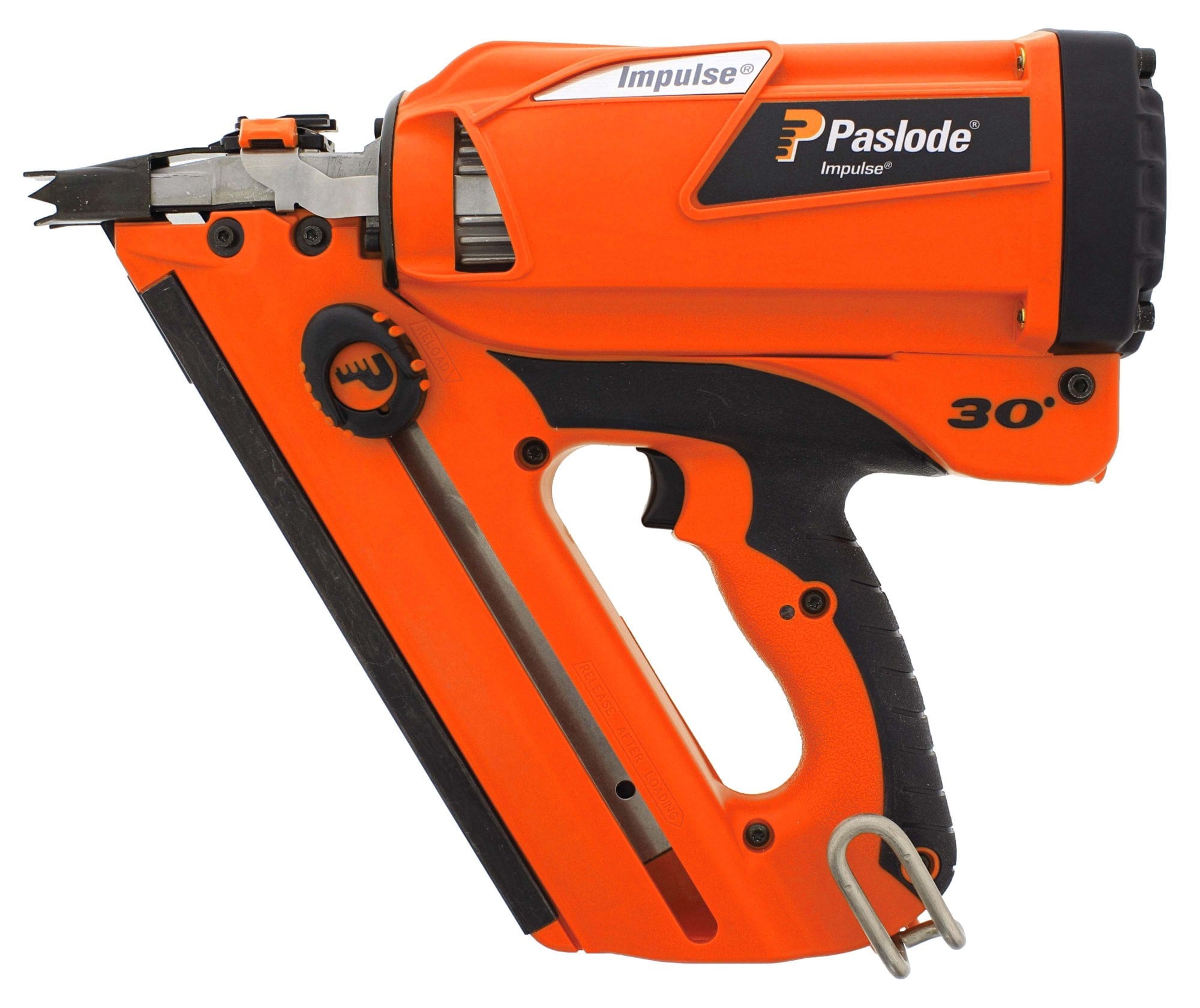 Paslode IM350+ Framing Nailer Cordless (1st Fix)
Product Code: 08/0658-h
Ideal for fixing roof trusses, studwork, heavy sheet floorboards, fencing, decking, shutting, etc. Nail sizes 51-90mm - available with ring profile except 90mm.
---
Features and Benefits
Cordless, no hoses, no compressors, no setting up time. Powerful driving up to a maximum of 2 nails per second and 1,000 per hour. Compact advanced body design enables work in cramped, overhead and hard to reach places.
Specifications
| | |
| --- | --- |
| Application | Timber |
| Battery Capacity: Ah | 2.1 |
| Battery Type | Lithium |
| Battery Voltage: V | 7.4 |
| Fastener Length Range: mm | 50 - 90 |
| Fixings per Hour: | 1000 |
| Height: mm | 370 |
| Impact Energy: J | 82 |
| Length: mm | 305 |
| Magazine Capacity: | 55 |
| Product Model | IM350+ |
| Sound Power Level: Lw dB[A] | 97 |
| Sound Pressure Level: dB[A] | 110 |
| Vibration Reading: m\s² | 9 |
| Voltage: V | 7.4 |
| Weight: Kg | 3.3 |
| Width: mm | 110 |
Product Comparison
| Product Name | Battery Capacity: Ah | Battery Type | Fastener Length Range: mm | Fixings per Hour: | Fixings per Second: | Height: mm | Impact Energy: J | Length: mm | Magazine Capacity: | Product Model | Sound Power Level: Lw dB[A] | Sound Pressure Level: dB[A] | Vibration Reading: m\s² | Weight: Kg | Width: mm | Application | Decibel Reading: dB[A] | Height | Impact Power J | Length | Max Daily Nails | Nail Range | Productivity | Sound Pressure Level | Weight | Width | Power Supply | Battery Voltage: V | Voltage: V | Fastener Intake | Blows per Minute | Price |
| --- | --- | --- | --- | --- | --- | --- | --- | --- | --- | --- | --- | --- | --- | --- | --- | --- | --- | --- | --- | --- | --- | --- | --- | --- | --- | --- | --- | --- | --- | --- | --- | --- |
| Paslode IM200/50 S16 Stapler Cordless | 1.25 | NiMH | 19-51 | 500 | 2 | 343 | 35 | 318 | 150 Fixings | IM200/50 S16 | 108 | 95 | 2.5 | 3.1 | 105 | N/A | N/A | N/A | N/A | N/A | N/A | N/A | N/A | N/A | N/A | N/A | N/A | N/A | N/A | N/A | N/A | |
| Hilti DX760 Cartridge Hammer | N/A | N/A | N/A | N/A | N/A | N/A | N/A | N/A | N/A | N/A | N/A | N/A | N/A | N/A | N/A | N/A | N/A | N/A | N/A | N/A | N/A | N/A | N/A | N/A | N/A | N/A | N/A | N/A | N/A | N/A | N/A | £57.00 / week |
| Hilti DX450 Cartridge Hammer | N/A | N/A | N/A | N/A | N/A | N/A | N/A | N/A | N/A | N/A | N/A | N/A | N/A | N/A | N/A | N/A | N/A | N/A | N/A | N/A | N/A | N/A | N/A | N/A | N/A | N/A | N/A | N/A | N/A | N/A | N/A | £57.00 / week |
| Cartridge Tool DX 460 | N/A | N/A | N/A | N/A | N/A | N/A | N/A | N/A | N/A | 371675 | N/A | N/A | 18 | N/A | N/A | Steel/Concrete | 105 | 180mm | 325 | 463mm | 1000 | 12 - 72mm | 700 nails/hr | 114dBLWA | 3.2kg | 72mm | N/A | N/A | N/A | N/A | N/A | £57.00 / week |
| Cartridge Tool - DX76 | N/A | N/A | N/A | N/A | N/A | N/A | N/A | N/A | N/A | 400469 | N/A | N/A | N/A | N/A | N/A | N/A | 119 | 352mm | 520 | 464mm | N/A | N/A | 600 fasteners/hr | N/A | 4.4kg | 104mm | N/A | N/A | N/A | N/A | N/A | £57.00 / week |
| Paslode IM65 Finishing Nailer Cordless (2nd Fix) | 2.1 | Lithium | 16 - 64 | 1000 | 2 - 3 | 288 | 30 | 301 | 100 | IM65 | 103 | 90 | <2.5 | 2.5 | 90 | Renovation, Trim Finishing, Remodelling, Manufacturing Windows, Mill Work | 101 | N/A | N/A | N/A | N/A | N/A | N/A | N/A | N/A | N/A | Gas and Battery | N/A | N/A | N/A | N/A | |
| Paslode IM350+ Framing Nailer Cordless (1st Fix) | 2.1 | Lithium | 50 - 90 | 1000 | N/A | 370 | 82 | 305 | 55 | IM350+ | 97 | 110 | 9 | 3.3 | 110 | Timber | N/A | N/A | N/A | N/A | N/A | N/A | N/A | N/A | N/A | N/A | N/A | 7.4 | 7.4 | N/A | N/A | |
| Paslode IM65A F16 Nailer Cordless | 2.1 | Lithium | 32-64 | 1000 | 2-3 | 303 | 30 | 288 | 100 | IM65A F16 | 105 | 92 | 2.8 | 2.8 | 90 | N/A | N/A | N/A | N/A | N/A | N/A | N/A | N/A | N/A | N/A | N/A | N/A | N/A | N/A | N/A | N/A | |
| SPIT PULSA 800E GAS NAILER CORDLESS | 2.2 | N/A | 15-40 | N/A | 2 | 309 | 82 | 114 | 20 | Spit Pulsa 800E | N/A | 96 | 4.1 | 3.7 | 385 | Steel, Concrete, Block, Brick | N/A | N/A | N/A | N/A | N/A | N/A | N/A | N/A | N/A | N/A | N/A | N/A | N/A | N/A | N/A | |
| HILTI BX 3 FASTENING TOOL BATTERY ACTUATED | N/A | N/A | N/A | N/A | N/A | N/A | N/A | N/A | N/A | N/A | N/A | N/A | 2.5 | N/A | N/A | N/A | 100 | N/A | N/A | N/A | N/A | N/A | N/A | N/A | 3.8kg | N/A | Battery | N/A | N/A | N/A | N/A | |
| Hilti GX 120 Gas Actuated Fastening Tool | N/A | N/A | 14 - 39 | N/A | N/A | N/A | N/A | N/A | N/A | N/A | N/A | N/A | N/A | 3.9 | N/A | N/A | N/A | N/A | N/A | N/A | N/A | N/A | N/A | N/A | N/A | N/A | N/A | N/A | N/A | 40 Nails | N/A | £57.00 / week |
| Milwaukee C12PN-0 Cordless Palm Nailer | N/A | Li-Ion | N/A | N/A | N/A | N/A | N/A | N/A | N/A | C12PN-0 | N/A | N/A | <2.5 | N/A | N/A | N/A | 81 | N/A | N/A | N/A | N/A | Up to 3.4 x 90mm | N/A | N/A | 1.6kg | N/A | Battery | N/A | 12v | N/A | 2700 | |