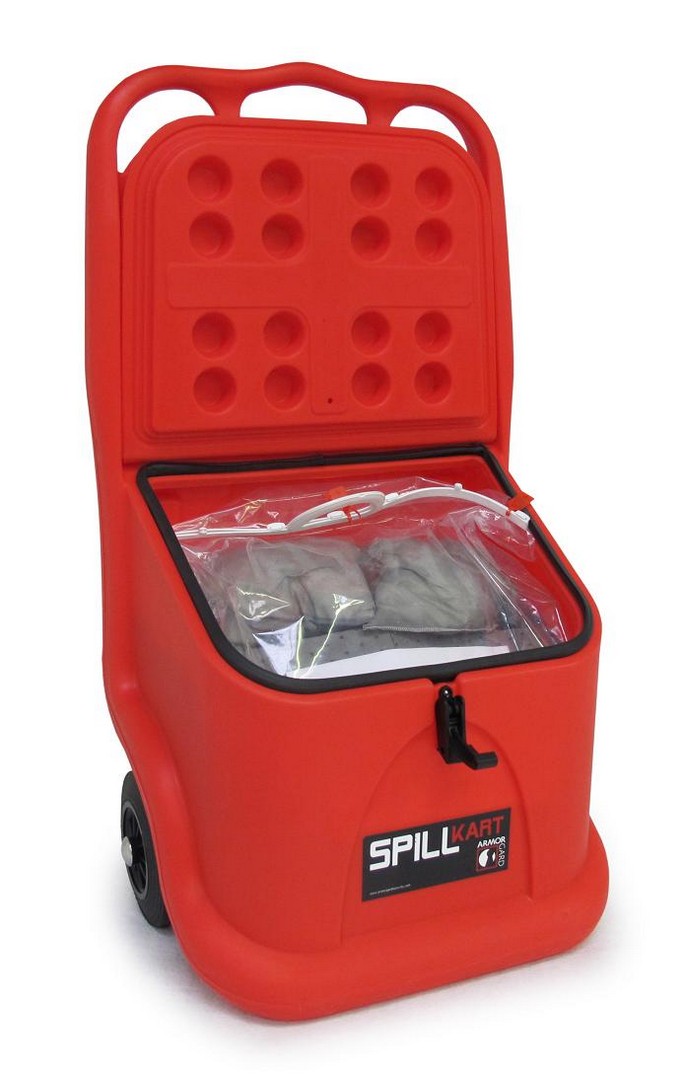 SPILLKART
Product Code: 08/0871-h
Unique and versatile cart for storing and transporting spill control essentials.
Features and Benefits
The Spillkart is ideal for taking spill control essentials directly to the spill scene, providing a quick and very efficient solution for controlling any spillages. The storage capacity of this product is 75 litres and is supplied with a 60 litre general purpose spill kit. To ensure maximum durability, the Spillkart is manufactured from high density plastic and is fitted with shatterproof wheels. Other features include a rubber seal around the lid to prevent water intrusion and the hasp and staple locking mechanism is padlockable for security of the contents.
Product Comparison
| Product Name | Volume Capacity | Capacity: Ltrs | Length: mm | Product Brand | Product Model | Weight: kg | Width: mm | Internal Length: mm | Internal Width: mm | Length [External]: mm | Width [External]: mm | Height | Length | NEW flag | Weight | Weight Laden | Weight Unladen | Width | Price |
| --- | --- | --- | --- | --- | --- | --- | --- | --- | --- | --- | --- | --- | --- | --- | --- | --- | --- | --- | --- |
| Spill Response Kit 62ltr | 62ltr | N/A | N/A | N/A | N/A | N/A | N/A | N/A | N/A | N/A | N/A | N/A | N/A | N/A | N/A | N/A | N/A | N/A | |
| Plant Nappy Spill Guard 2m x 1.3m | N/A | 16 | External: 2000, Internal: 1960 | Plant Nappy | PN2000 | 0.5 | External: 1370, Internal: 1330 | N/A | N/A | N/A | N/A | N/A | N/A | N/A | N/A | N/A | N/A | N/A | £35.00 / week |
| Plant Nappy PN1000 Plant Oil Spill Guard | N/A | 4.5 | N/A | Plant Nappy | PN1000 | N/A | N/A | 960 | 645 | 1,000 | 685 | N/A | N/A | N/A | N/A | N/A | N/A | N/A | £20.00 / week |
| DIESEL MASTER | 235Ltr (50gal) | N/A | N/A | N/A | TP50DM | N/A | N/A | N/A | N/A | N/A | N/A | 570mm | 1100mm | Yes | 22kg | 260kg | 22kg | 750mm | |
| SPILLKART | N/A | N/A | N/A | N/A | SK1 | N/A | N/A | N/A | N/A | N/A | N/A | N/A | N/A | N/A | N/A | N/A | N/A | N/A | |