Site Box (Fireproof) 4ft x 4ft x 2ft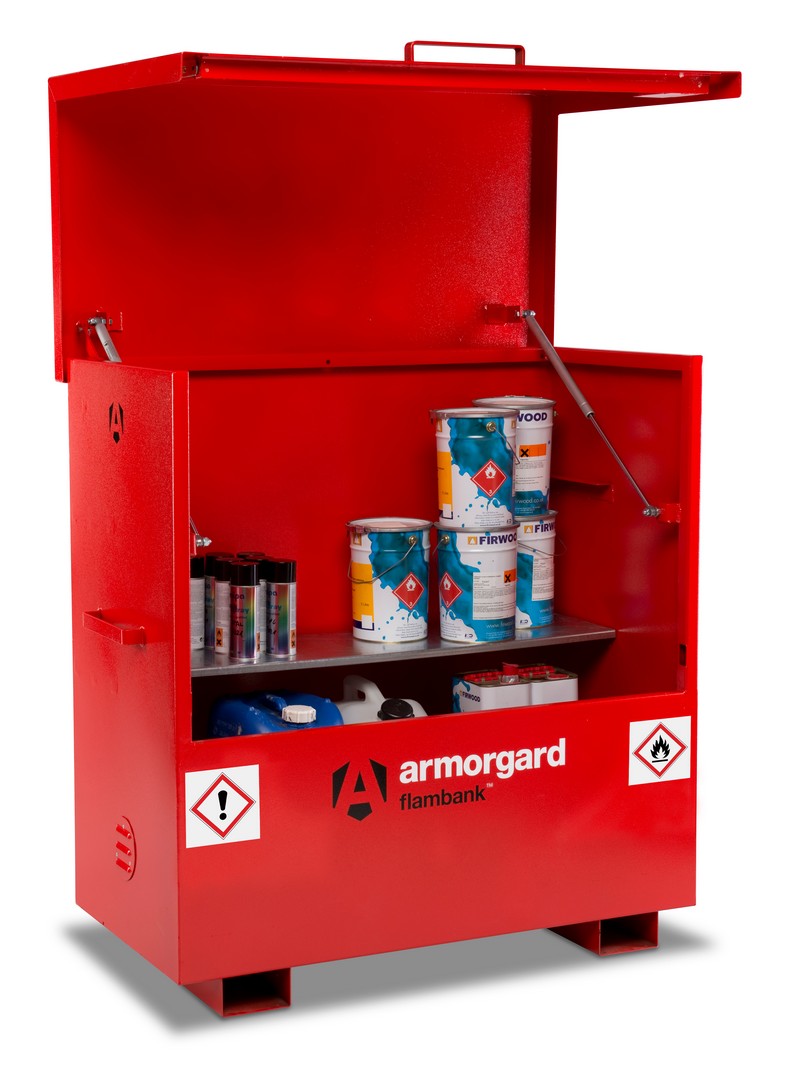 Site Box (Fireproof) 4ft x 4ft x 2ft
Product Code: 08/1825-h
The Flambank is designed to fully comply with all regulations for the safe storage of chemicals and flammables. It is used for both internal and external applications where security is also an issue.
---
Features and Benefits
A strong, lockable chest, constructed from robust steel. It is built to specification for 30 minutes fire resistance including flame arrester gauze. The Flambank comprises of high and low level ventilation to prevent the build up of fumes. Fully welded and tested sump base to prevent leakages. Comes supplied with one internal shelf and complete with relevant hazardous signage. Comes with fork skids for easy handling and facilities to add castors - it is simple to make it mobile. Serial numbered for fast key replacement.
Specifications
| | |
| --- | --- |
| Capacity | 440ltr |
| Depth | 0.68m |
| Height | 1.28m |
| Product Model | FBC4 |
| Weight | 170kg |
| Width | 1.28m |
Product Comparison
| Product Name | Depth: mm | Height: mm | Type of Storage: | Weight: Kg | Width: mm | Finished Coating: | Material | Product Brand | Product Model | Fire Resistant: Min | Length: mm | Capacity | Depth | Height | Weight | Width | Capacity: L | Internal Depth: mm | Internal Height: mm | Internal Width: mm | Price |
| --- | --- | --- | --- | --- | --- | --- | --- | --- | --- | --- | --- | --- | --- | --- | --- | --- | --- | --- | --- | --- | --- |
| Site Box Standard 4ft x 2ft x 2ft | 665 | 660 | Tool | 58 | 1200 | N/A | N/A | N/A | N/A | N/A | N/A | N/A | N/A | N/A | N/A | N/A | N/A | N/A | N/A | N/A | £30.00 / week |
| Site Box - 1200mm X 1200mm X 600mm | 615 | 1265 | Site Box | 125 | 1150 | Powder Coated Steel | Steel | Armorguard | TBC4 | N/A | N/A | N/A | N/A | N/A | N/A | N/A | N/A | N/A | N/A | N/A | £35.00 / week |
| Fuel Drum Store Security | N/A | 1345 | Drum Bank | 178 | 1075 | Powder Coat with anti-corrosive undercoat | Steel | Armorguard | DB2 | 0 - 30 | 1385 | N/A | N/A | N/A | N/A | N/A | N/A | N/A | N/A | N/A | |
| Site Box (Fireproof) 4ft x 4ft x 2ft | N/A | N/A | N/A | N/A | N/A | N/A | N/A | N/A | FBC4 | N/A | N/A | 440ltr | 0.68m | 1.28m | 170kg | 1.28m | N/A | N/A | N/A | N/A | |
| Chemical Storage Site Box 1200mm X 1200mm X 600mm | 675 | 1270 | Chemical | 150 | 1275 | N/A | Steel | N/A | N/A | N/A | N/A | N/A | N/A | N/A | N/A | N/A | 110 | 605 | 1185 | 1185 | £50.00 / week |