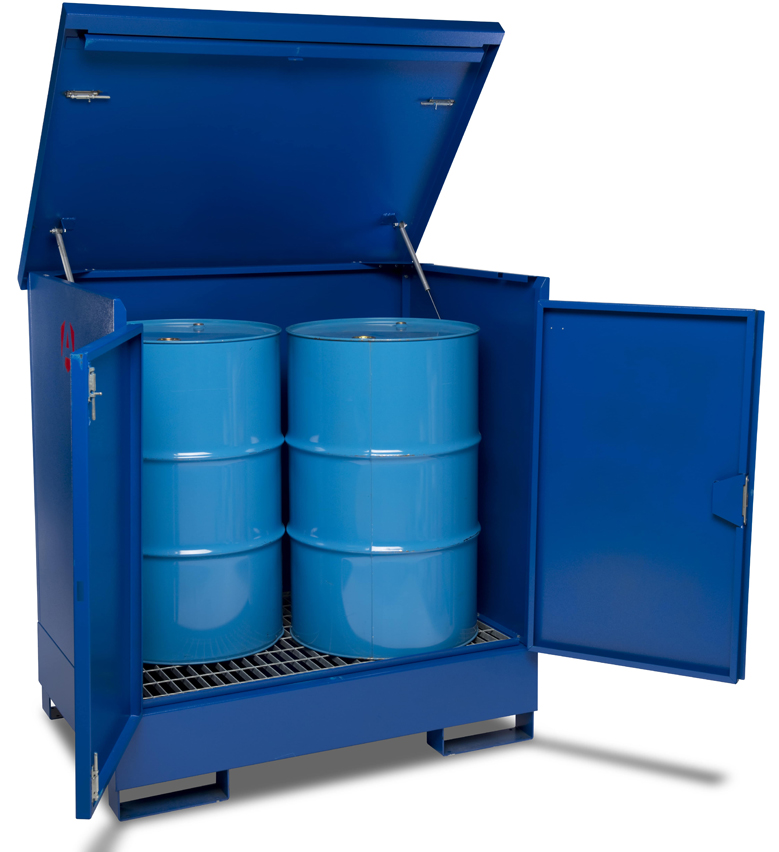 Fuel Drum Store Security
Product Code: 08/1870-h
The Drumbank is designed for the storing upto 2 drums 205ltrs in size. This product fully complies for storing fuels, oils, chemicals and other hazardous items. With fuel theft having increased dramatically over the last few years, this enclosed version can be used to protect high value oils or fuels with 5-lever deadlocks fitted.
---
Features and Benefits
The Drumbank comes with a fully welded leak proof sump, raised and removable galvanised gridded floor. It is built to 30 minute fire resistant specification. For security, the Drumbank has a 5-lever deadlock and is manufactured from robust steel. The product can be easily transported via the forklift skids. Serial numbered for fast key replacement. The DrumBank DB2 is designed for storing up to 2 x 205 litre drums.
Specifications
| | |
| --- | --- |
| Finished Coating: | Powder Coat with anti-corrosive undercoat |
| Fire Resistant: Min | 0 - 30 |
| Height: mm | 1345 |
| Length: mm | 1385 |
| Material | Steel |
| Product Brand | Armorguard |
| Product Model | DB2 |
| Type of Storage: | Drum Bank |
| Weight: Kg | 178 |
| Width: mm | 1075 |
Product Comparison
| Product Name | Depth: mm | Height: mm | Type of Storage: | Weight: Kg | Width: mm | Finished Coating: | Material | Product Brand | Product Model | Fire Resistant: Min | Length: mm | Capacity | Depth | Height | Weight | Width | Capacity: L | Internal Depth: mm | Internal Height: mm | Internal Width: mm | Price |
| --- | --- | --- | --- | --- | --- | --- | --- | --- | --- | --- | --- | --- | --- | --- | --- | --- | --- | --- | --- | --- | --- |
| Site Box Standard 4ft x 2ft x 2ft | 665 | 660 | Tool | 58 | 1200 | N/A | N/A | N/A | N/A | N/A | N/A | N/A | N/A | N/A | N/A | N/A | N/A | N/A | N/A | N/A | £30.00 / week |
| Site Box - 1200mm X 1200mm X 600mm | 615 | 1265 | Site Box | 125 | 1150 | Powder Coated Steel | Steel | Armorguard | TBC4 | N/A | N/A | N/A | N/A | N/A | N/A | N/A | N/A | N/A | N/A | N/A | £35.00 / week |
| Fuel Drum Store Security | N/A | 1345 | Drum Bank | 178 | 1075 | Powder Coat with anti-corrosive undercoat | Steel | Armorguard | DB2 | 0 - 30 | 1385 | N/A | N/A | N/A | N/A | N/A | N/A | N/A | N/A | N/A | |
| Site Box (Fireproof) 4ft x 4ft x 2ft | N/A | N/A | N/A | N/A | N/A | N/A | N/A | N/A | FBC4 | N/A | N/A | 440ltr | 0.68m | 1.28m | 170kg | 1.28m | N/A | N/A | N/A | N/A | |
| Chemical Storage Site Box 1200mm X 1200mm X 600mm | 675 | 1270 | Chemical | 150 | 1275 | N/A | Steel | N/A | N/A | N/A | N/A | N/A | N/A | N/A | N/A | N/A | 110 | 605 | 1185 | 1185 | £50.00 / week |