Slimline Steps - Alloy - 8 Tread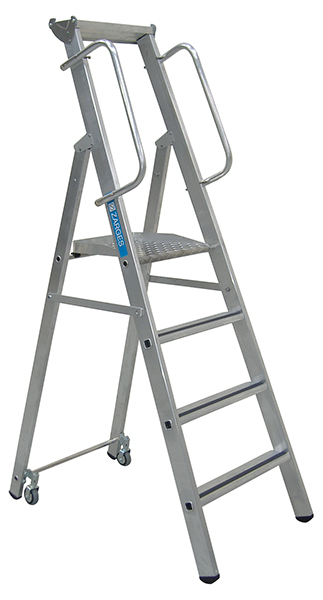 Online Price
Slimline Steps - Alloy - 8 Tread
Product Code: 09/1377-h
8 tread mobile master step.
Online Price. Log in for bespoke rates. All prices exclusive of VAT.
Features and Benefits
Easily transported: spring loaded castors and two side locking arms. Large work platform with aluminium checker plate surface (400 mm x 400 mm). 80 mm deep treads with integrated plastic inserts offer maximum anti-slip protection. Extra wide base provides for additional stability. Practical aluminium storage tray for small items and tools. With two handrails as standard for safe access. Optimum stability thanks to two high-strength perlon straps for preventing splay. High-strength connection between tread and stile. Extra high knee-rail (82 cm above platform).
Specifications
| | |
| --- | --- |
| Class | EN 131 150 Kilo rating |
| Closed Height | 3.27m |
| Open Footprint | 0.74 x 1.77m |
| Open Height: mm | 3.05m |
| Platform Height | 2.07m |
| Platform Length | 0.4m |
| Product Model | 340478 |
| Safe Working Load | 150kg |
| Treads | 8 |
| Weight | 13.6kg |
| Width | 0.74m |
| Working Height | 4.07m |
Product Comparison
| Product Name | Class | Closed Height | Open Footprint | Open Height: mm | Platform Height | Platform Length | Product Model | Safe Working Load | Treads | Weight | Width | Working Height | No. of Rungs | Overall [Length]: mm | Platform Height: mm | Product Brand | Transport Height: mm | Transport Length: mm | Transport Width: mm | Weight: kg | Width: mm | Working Height: mm | Price |
| --- | --- | --- | --- | --- | --- | --- | --- | --- | --- | --- | --- | --- | --- | --- | --- | --- | --- | --- | --- | --- | --- | --- | --- |
| Slimline Steps - Alloy - 1.41m 6 Tread | EN 131 150 Kilo rating | 2.71m | 0.68 x 1.42m | 2.49m | 1.58m | 0.4m | 340477 | 150kg | 6 | 11.4kg | 0.68m | 3.58m | N/A | N/A | N/A | N/A | N/A | N/A | N/A | N/A | N/A | N/A | £11.83 / week |
| Slimline Steps - Alloy - 8 Tread | EN 131 150 Kilo rating | 3.27m | 0.74 x 1.77m | 3.05m | 2.07m | 0.4m | 340478 | 150kg | 8 | 13.6kg | 0.74m | 4.07m | N/A | N/A | N/A | N/A | N/A | N/A | N/A | N/A | N/A | N/A | £13.37 / week |
| Zarges 340479 2.59m Stepladders 20.3Kg | EN 131 150 Kilo rating | N/A | N/A | N/A | N/A | N/A | 340479 | N/A | N/A | N/A | N/A | N/A | 10 | 3,380 | 2,590 | Zarges | 155 | 3,338 | 800 | 20.3 | 800 | 4,600 | £14.85 / week |
| Slimline Steps - Alloy - 12 Tread | EN 131 150 Kilo rating | 4.39m | 0.86 x 2.48m | 4.16m | 3.11m | 0.4m | 341635 | 150kg | 12 | 23kg | 0.86m | 5.11m | N/A | N/A | N/A | N/A | N/A | N/A | N/A | N/A | N/A | N/A | £16.89 / week |