Hilti DD 200 Diamond Coring Drill 110v 13.9kg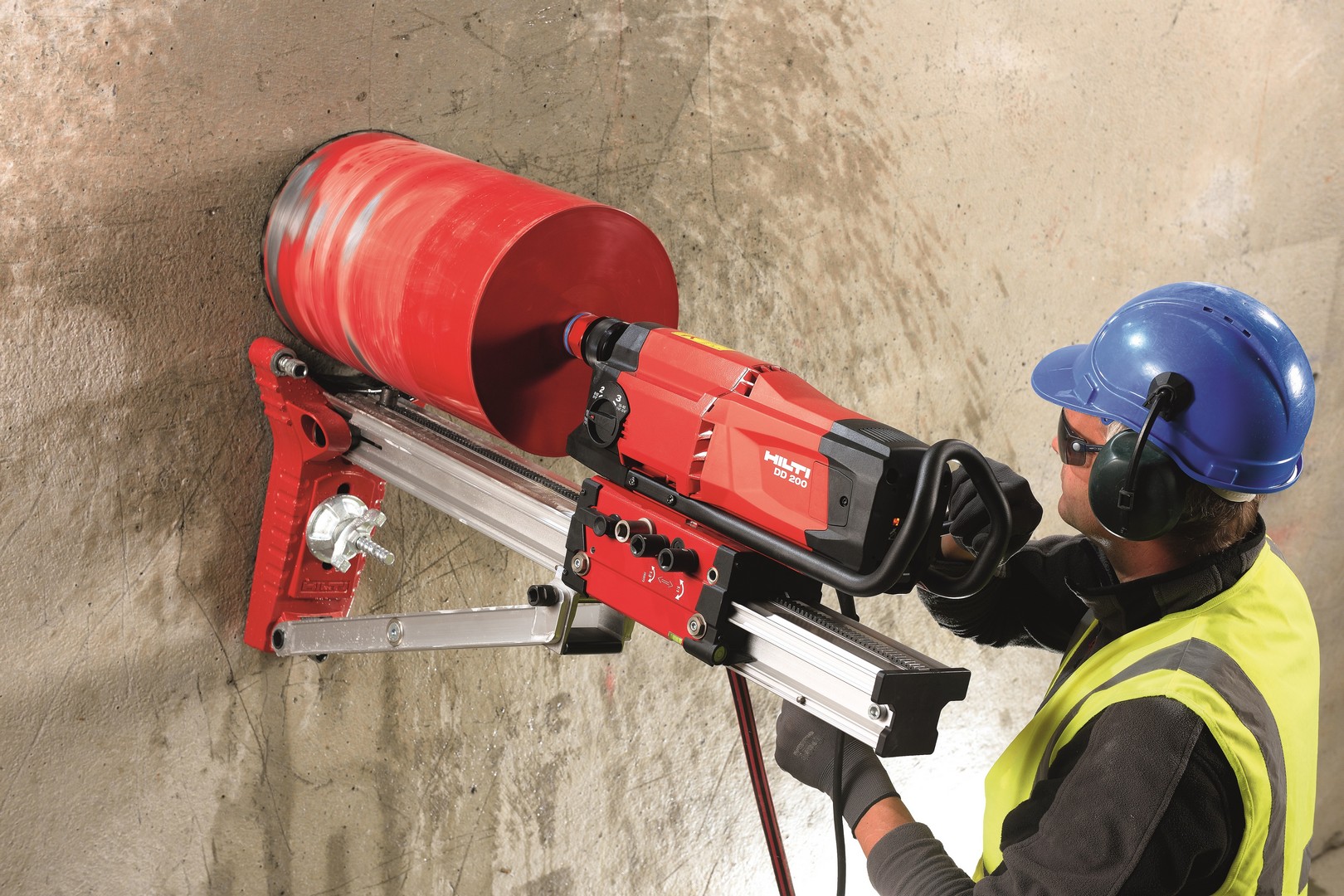 Hilti DD 200 Diamond Coring Drill 110v 13.9kg
Product Code: 10/0035-h
Easy to handle, easy to understand and easy to operate, the DD200 diamond coring system sets new standards in user-friendliness and productivity. With an optimal range from 50mm to 250mm, but a capability up to 400mm, it is highly suited to an extensive range of applications.
---
Features and Benefits
Diamond drilling when used with rig, reduces vibration and ensures accurate drilling.
Specifications
| | |
| --- | --- |
| Application | Diamond Coring |
| Diameter Range: mm | 25 - 450 |
| Height: mm | 173 |
| Length: mm | 630 |
| Max. Drilling Depth: mm | 500 |
| Max. Permissable Water Supply Pressure: bar | 6 |
| No Load Speed: RPM | Gear 1: 320, Gear 2: 640, Gear 3: 1300 |
| Number of Gears | 3 |
| Operation Mode | Rig Mounted |
| Product Brand | Hilti |
| Product Model | DD 200 |
| Sound Power Level: Lw dB[A] | 105 |
| Sound Pressure Level: dB[A] | 92 |
| Vibration Reading: m\s² | Drilling In Concrete (Wet): 2.5 , Rig Mounted: <2.5 |
| Voltage: V | 110 |
| Weight: Kg | 13.9 |
| Width: mm | 150 |
Product Comparison
| Product Name | Application | Diameter Range: mm | Height: mm | Length: mm | Max. Drilling Depth: mm | Max. Permissable Water Supply Pressure: bar | No Load Speed: RPM | Number of Gears | Operation Mode | Product Brand | Product Model | Sound Power Level: Lw dB[A] | Sound Pressure Level: dB[A] | Vibration Reading: m\s² | Voltage: V | Weight: Kg | Width: mm | Core Bit Size: mm | Decibel Reading: dB[A] | Drilling Depth | Height | Power Input | Weight | Width | Input Power: W | Price |
| --- | --- | --- | --- | --- | --- | --- | --- | --- | --- | --- | --- | --- | --- | --- | --- | --- | --- | --- | --- | --- | --- | --- | --- | --- | --- | --- |
| Hilti DD 200 Diamond Coring Drill 110v 13.9kg | Diamond Coring | 25 - 450 | 173 | 630 | 500 | 6 | Gear 1: 320, Gear 2: 640, Gear 3: 1300 | 3 | Rig Mounted | Hilti | DD 200 | 105 | 92 | Drilling In Concrete (Wet): 2.5 , Rig Mounted: <2.5 | 110 | 13.9 | 150 | N/A | N/A | N/A | N/A | N/A | N/A | N/A | N/A | £333.00 / week |
| Diamond Drilling Rig DD250 | N/A | N/A | N/A | N/A | N/A | N/A | N/A | N/A | N/A | N/A | 277350 | N/A | N/A | <2.5 (Rig mounted - triaxial) | N/A | N/A | N/A | 12-450mm | 109 | 500mm | 1100 mm (Drill Size) | 2500w | 15.3kg Complete: 37kg | 220mm | N/A | |
| Hilti DD-120 Diamond Core Drilling Rig 110v 11Kg | Diamond Coring | 16 - 162 | 330 | 327 | N/A | N/A | Gear 1: 740, Gear 2: 1580 | 2 | Rig Mounted | Hilti | DD 120 | 102 | 89 | 2.5 | 110 | 11.0 | 147 | N/A | N/A | N/A | N/A | N/A | N/A | N/A | 1600 | |