Hilti TE 30-C-AVR Rotary Hammer Drill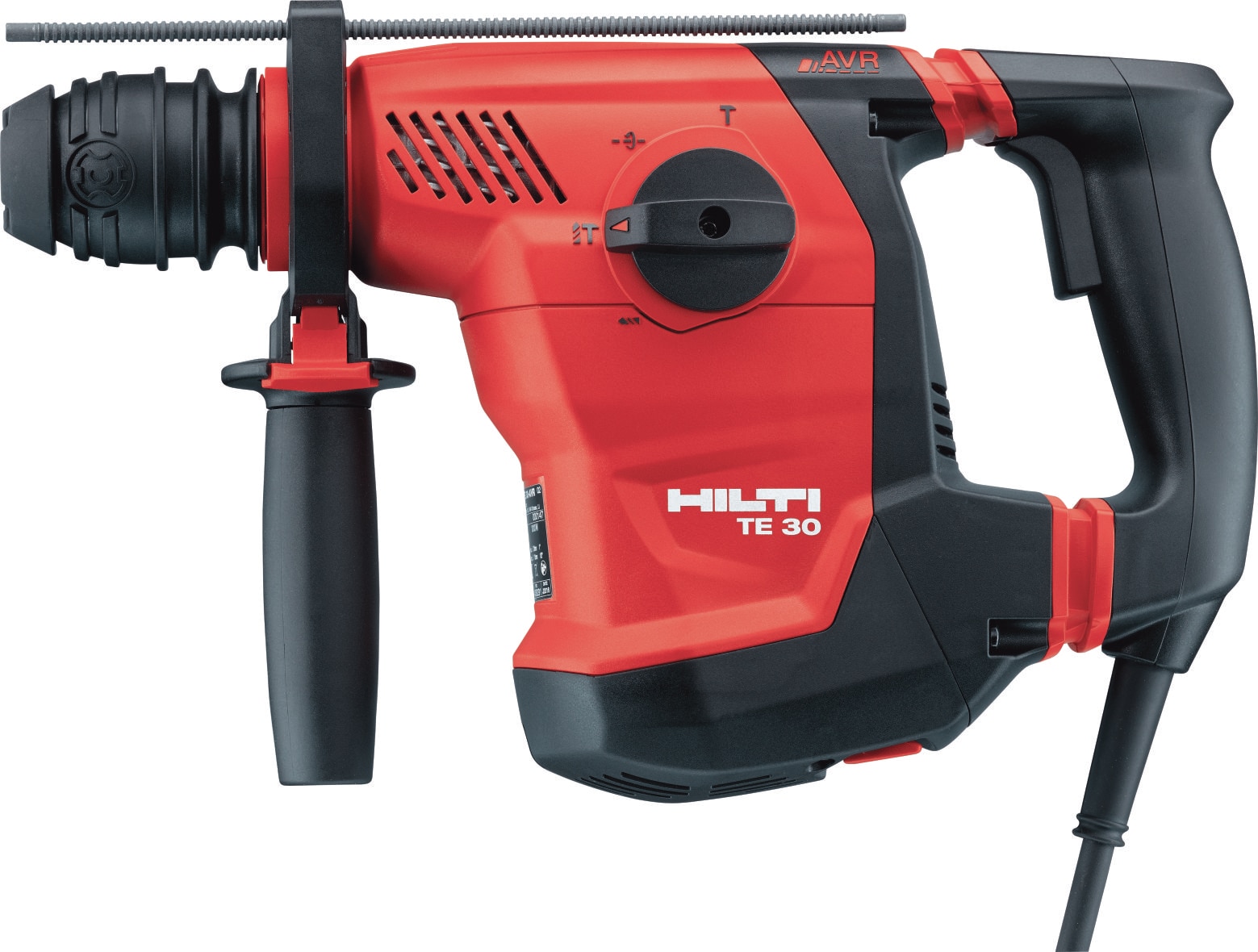 Hilti TE 30-C-AVR Rotary Hammer Drill
Product Code: 11/0155-h
SDS plus rotary hammer drill with 3 functions: rotary, rotary hammer and hammer only. Suitable for drilling holes up to 32mm in concrete and light duty chipping. With AVT, offering low vibration. Chuck and adaptor available for rotary drilling.
---
£30.00 / week
£6.00 / extra day
Discounted to List Price
All prices exclusive of VAT
---
Features and Benefits
Very high drilling performance. Reversing function for screw driving. Greater versatility with drilling and chiselling.
Specifications
| | |
| --- | --- |
| Model | TE 30-C-AVR |
| Variable Speed | 0 - 750 RPM |
| Masonry Core Bit | 76 mm |
| Voltage: V | 110 |
| Impact Power J | 3.3 |
| Portable Transformer | 3 KW |
| Frequency | 50 - 60 Hz |
| Drilling Capacity Masonry: mm | 10 - 20 |
| Drilling Capacity Metal: mm | 3 - 13 |
| Drilling Capacity Wood: mm | 3 - 25 |
| Vibration Reading: m\s² | 9.3 |
| Chuck Type | SDS+ |
| Chiselling Function | Yes |
| Drilling Capacity Concrete: mm | 10 - 20 |
| Impact Rate: BPM | 4500 |
| Length: mm | 379 |
| Weight: Kg | 4.2 |
| Sound Pressure Level: dB[A] | 90 |
| No Load Speed: RPM | 750 |
| Height: mm | 213 |
| Width: mm | 93 |
| Input Power: W | 1010 |
Product Comparison
| Product Name | Weight | Decibel Reading: dB[A] | Power Input | Voltage: V | Power Output | Impact Power J | K Factor | Blows per Minute | Drilling Capacity Masonry: mm | Drilling Capacity Metal: mm | Drilling Capacity Wood: mm | Vibration Reading: m\s² | Chuck Type | Chiselling Function | Variable Speed | Masonry Core Bit | Portable Transformer | Frequency | Drilling Capacity Concrete: mm | Impact Rate: BPM | Length: mm | Weight: Kg | Sound Pressure Level: dB[A] | No Load Speed: RPM | Height: mm | Width: mm | Input Power: W | No Load Speed | Price |
| --- | --- | --- | --- | --- | --- | --- | --- | --- | --- | --- | --- | --- | --- | --- | --- | --- | --- | --- | --- | --- | --- | --- | --- | --- | --- | --- | --- | --- | --- |
| Milwaukee PLH20 SDS+ Hammer Drill | 1.9kg | 101 | 620w | 110v | 310w | 2j | 1.5 | 0-4500 | 20mm | 13mm | 30mm | 10.2 | SDS+ | No | N/A | N/A | N/A | N/A | N/A | N/A | N/A | N/A | N/A | N/A | N/A | N/A | N/A | N/A | £30.00 / week |
| Hilti TE 30-C-AVR Rotary Hammer Drill | N/A | N/A | N/A | 110 | N/A | 3.3 | N/A | N/A | 10 - 20 | 3 - 13 | 3 - 25 | 9.3 | SDS+ | Yes | 0 - 750 RPM | 76 mm | 3 KW | 50 - 60 Hz | 10 - 20 | 4500 | 379 | 4.2 | 90 | 750 | 213 | 93 | 1010 | N/A | £30.00 / week |
| Milwaukee PH28 SDS+ Hammer Drill | 3.6kg | 90.5 | 800w | 110v | 365w | 2.9j | N/A | 4500 | 28mm | 13mm | 40mm | Drilling: 10.6 / Chiseling: 6.8 | SDS+ | Yes | N/A | N/A | N/A | N/A | N/A | N/A | N/A | N/A | N/A | N/A | N/A | N/A | N/A | 1500rpm | £30.00 / week |