Hilti TE 60-ATC-AVR Combi Hammer Drill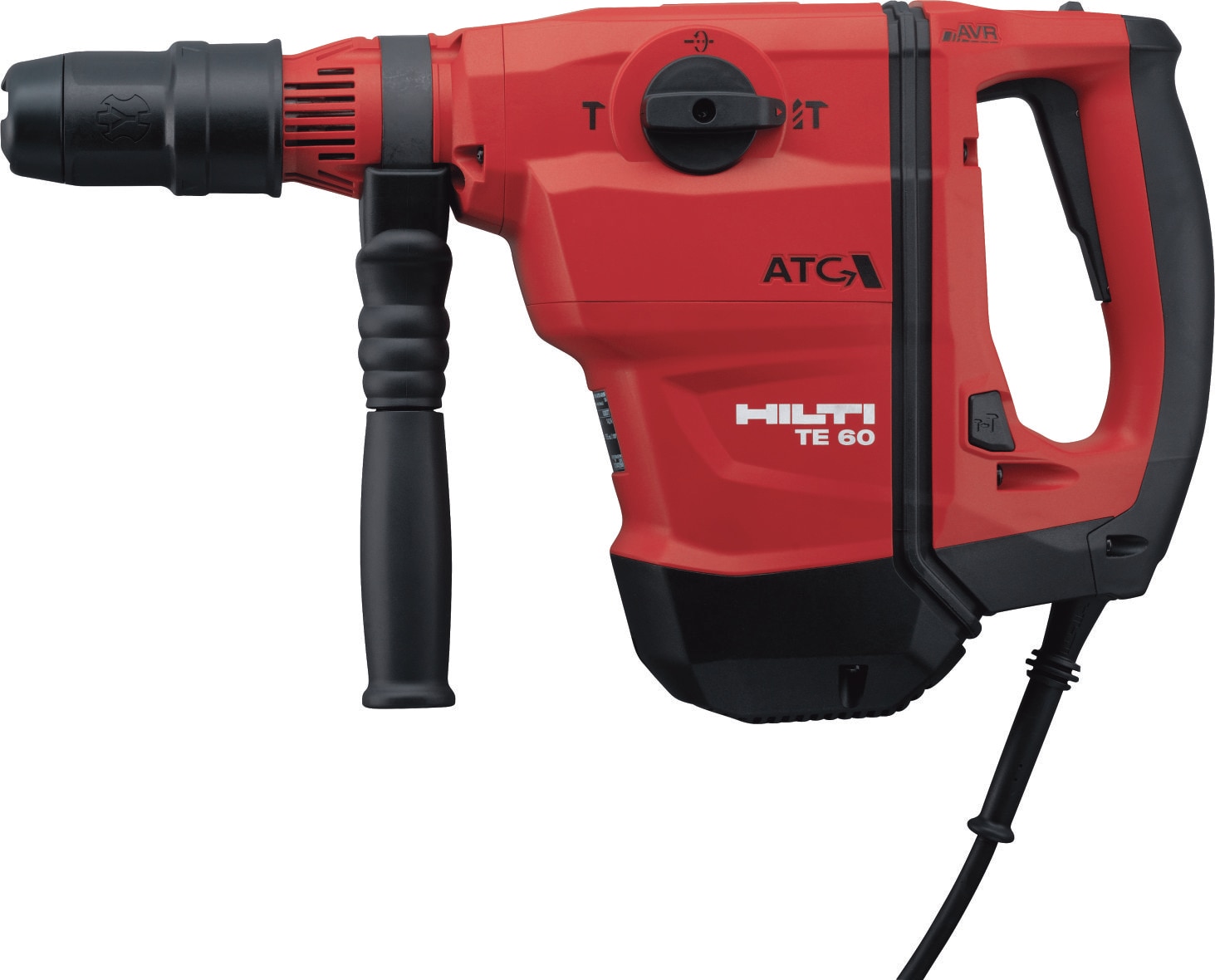 Hilti TE 60-ATC-AVR Combi Hammer Drill
Product Code: 11/0185-h
Versatile drilling and chiselling tools, capable of drilling up to 66mm depth in concrete and chiselling lightweight demolition. ATC (active torque control) switches the tool off immediately in potentially dangerous situations when the drill bit sticks. AVR (active vibration reduction) cuts vibration, making the tool less tiring to use and more productive.
---
£24.00 / 1st day
£40.00 / week
£8.00 / extra day
Discounted from List Price
All prices exclusive of VAT
---
Features and Benefits
Very high drilling performance. Robustly built for greater durability. Smooth drilling from electro-pneumatic principle.
Specifications
| | |
| --- | --- |
| Model | TE 60-ATC/AVR |
| Variable Speed | 0 - 350 RPM |
| Voltage: V | 110 |
| Application | Hammer Drilling, Breaching & Demo Work |
| Impact Power J | 7.3 |
| Sound Power Level: Lw dB[A] | 111 |
| Vibration Reading: m\s² | 6.5 |
| Chuck Type | SDS Max |
| Impact Rate: BPM | 3300 |
| Length: mm | 493 |
| Weight: Kg | 7.8 |
| Sound Pressure Level: dB[A] | 100 |
| No Load Speed: RPM | 350 |
| Height: mm | 293 |
| Width: mm | 115 |
| Input Power: W | 1350 |
| Hammer Drilling Dia Range: mm | 12 - 40 |
| Optimum Hammer Drilling Dia Range: mm | 18 - 40 |
| Breach Drill Bit Range: mm | 40 - 80 |
| Percussion Core Bit Range: mm | 45 - 100 |
| Diamond Core Bit Range: mm | 42 - 102 |
Product Comparison
| Product Name | Voltage: V | Application | Impact Power J | Sound Power Level: Lw dB[A] | Drilling Capacity Masonry: mm | Vibration Reading: m\s² | Chuck Type | Drilling Capacity Concrete: mm | Weight: Kg | Sound Pressure Level: dB[A] | No Load Speed: RPM | Input Power: W | Plug Type: AMP | Core Bit Size Max: mm | Variable Speed | Impact Rate: BPM | Length: mm | Height: mm | Width: mm | Hammer Drilling Dia Range: mm | Optimum Hammer Drilling Dia Range: mm | Breach Drill Bit Range: mm | Percussion Core Bit Range: mm | Diamond Core Bit Range: mm | Impact Energy: J | Price |
| --- | --- | --- | --- | --- | --- | --- | --- | --- | --- | --- | --- | --- | --- | --- | --- | --- | --- | --- | --- | --- | --- | --- | --- | --- | --- | --- |
| Medium Duty Combi Hammer - Milwaukee 545S SDS | 110 | Drilling, Hammer Drilling, Light Chiselling | 8.5 | 109.5 | 45 | Hammer Drilling: 11.5, Chiselling: 9 | SDS Max | 45 | 6.7 | 98.5 | 450 | 1300 | 16 | 100 | N/A | N/A | N/A | N/A | N/A | N/A | N/A | N/A | N/A | N/A | N/A | £40.00 / week |
| Hilti TE 60-ATC-AVR Combi Hammer Drill | 110 | Hammer Drilling, Breaching & Demo Work | 7.3 | 111 | N/A | 6.5 | SDS Max | N/A | 7.8 | 100 | 350 | 1350 | N/A | N/A | 0 - 350 RPM | 3300 | 493 | 293 | 115 | 12 - 40 | 18 - 40 | 40 - 80 | 45 - 100 | 42 - 102 | N/A | £40.00 / week |
| Hilti TE 40-AVR Rotary Hammer Drill | 110 | Hammer Drilling, Light Chiseling | N/A | 105 | N/A | Hammer Drilling: 10.7, Chiseling: 9.9 | SDS Plus | N/A | 5.6 | 94 | 550 | 1,010 | N/A | N/A | N/A | N/A | 425 | 243 | 113 | 5 - 32 | N/A | N/A | N/A | N/A | 4.9 | £50.00 / week |
| Hilti TE 50-AVR Rotary Hammer Drill | N/A | Hammer Drilling, Light Chiseling | N/A | 108 | N/A | 9.0 | SDS Max | N/A | 6.1 | 97 | N/A | 1100 | N/A | N/A | N/A | 3510 | N/A | N/A | N/A | 12 - 40 | 16 - 32 | N/A | N/A | N/A | 6.0 | £40.00 / week |