Hiretech HT8 Drum Floor Sander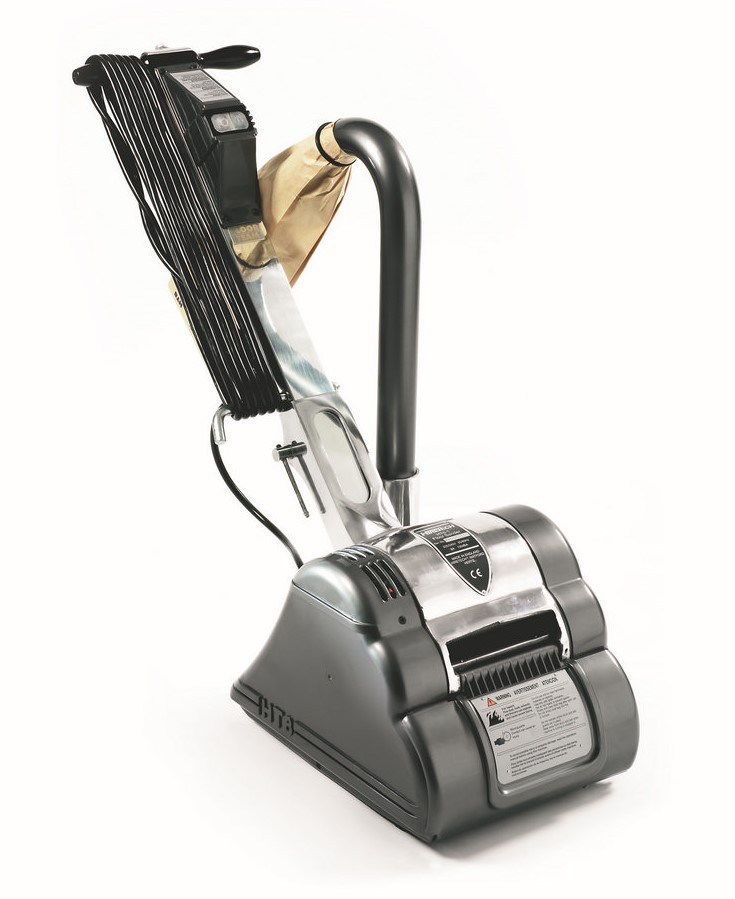 Hiretech HT8 Drum Floor Sander
Product Code: 12/0140-h
The HT8 can sand all types of wooden floors including parquet to a fine score free finish. It is also capable of being used on a wide range of other surfaces including some types of decking, fibre board, cork, engineered and composition floors.
Features and Benefits
A full range of sanding paper is available.
Specifications
| | |
| --- | --- |
| Abrasive Sheet Dim: mm | 495 x 203 |
| Application | Floor Sanding |
| Decibel Reading: dB[A] | 100 |
| Depth: mm | 940 |
| Drum: RPM | 3,300 |
| Height: mm | 440 |
| Motor: RPM | 8,500 |
| Product Model | HT8-1 |
| Sanding Drum Dia: mm | 203 |
| Vibration Reading [HAVs]: m\s² | 1.60 |
| Voltage: V | 110 |
| Weight: kg | 41.5 |
| Width: mm | 322 |
Product Comparison
| Product Name | Abrasive Sheet Dim: mm | Application | Decibel Reading: dB[A] | Depth: mm | Drum: RPM | Height: mm | Motor: RPM | Product Model | Sanding Drum Dia: mm | Vibration Reading [HAVs]: m\s² | Voltage: V | Weight: kg | Width: mm | Disc: RPM | Sanding Disc Dia: mm | Feed Rate: m\min | Input Power: W | Max. No Load Speed: RPM | Overall Height: mm | Overall Length: mm | Overall Width: mm | Planing Depth: mm | Planing Width: mm | Plug Type: Amps | Product Brand | Sound Power Level: Lw dB[A] | Sound Pressure Level: dB[A] | Table Size: mm | Price |
| --- | --- | --- | --- | --- | --- | --- | --- | --- | --- | --- | --- | --- | --- | --- | --- | --- | --- | --- | --- | --- | --- | --- | --- | --- | --- | --- | --- | --- | --- |
| Hiretech HT8 Drum Floor Sander | 495 x 203 | Floor Sanding | 100 | 940 | 3,300 | 440 | 8,500 | HT8-1 | 203 | 1.60 | 110 | 41.5 | 322 | N/A | N/A | N/A | N/A | N/A | N/A | N/A | N/A | N/A | N/A | N/A | N/A | N/A | N/A | N/A | |
| Hiretech HT7 Disc Floor Edging Sander | N/A | Floor Edge Sanding | 100 | 505 | N/A | 325 | 13,000 | HT7-2 | N/A | 2.71 | 110 | 16.4 | 276 | 3,300 | 178 | N/A | N/A | N/A | N/A | N/A | N/A | N/A | N/A | N/A | N/A | N/A | N/A | N/A | |
| Makita 2012NB 304mm Planer Thicknesser 110v 27.6Kg | N/A | N/A | N/A | N/A | N/A | N/A | N/A | 2012NB | N/A | N/A | 110 | 27.6 | N/A | N/A | N/A | 8.5 | 1,650 | 8,500 | 401 | 771 | 484 | 3 | 304 | 16 | Makita | 99 | 86 | 771 x 304 | |
| FLOOR FINISHING SANDER | N/A | N/A | N/A | N/A | N/A | N/A | N/A | N/A | N/A | N/A | N/A | N/A | N/A | N/A | N/A | N/A | N/A | N/A | N/A | N/A | N/A | N/A | N/A | N/A | N/A | N/A | N/A | N/A | |