Extension Lead 4mm 32a 110v 14m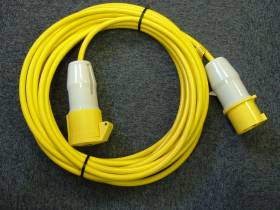 Extension Lead 4mm 32a 110v 14m
Product Code: 16/0021-h
For 110v supply in 14m lengths complete with 32a socket. Heavy duty leads plus armour coated leads available on request.
---
£10.80 / 1st day
£18.00 / week
£3.60 / extra day
Discounted to List Price
All prices exclusive of VAT
---
Features and Benefits
14 metre 4mm 3core arctic grade 115v extension lead complete with ip44 rated 32a plug & ip44 rated 32a socket.
Specifications
| | |
| --- | --- |
| Model | EXL1432A4MMSP |
| Voltage: V | 110v |
| Thickness | 4mm |
| Length | 14m |