Site Transformer 10kva (3 Phase)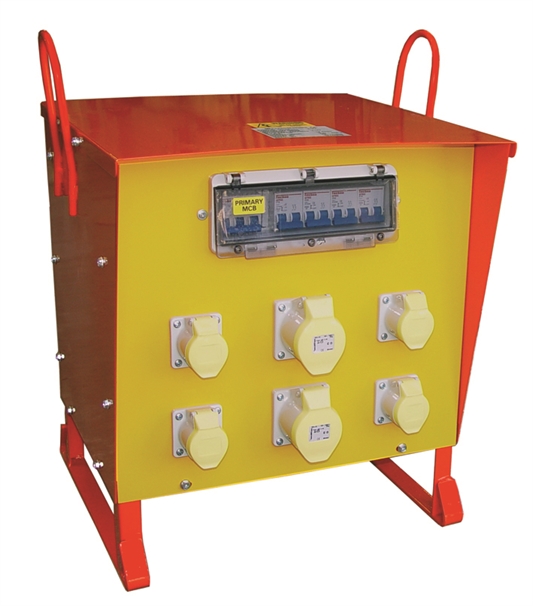 Site Transformer 10kva (3 Phase)
Product Code: 16/0120-h
Suitable for site power management with the facility of 16/32 amp outlets. Transforming 415v to 110v. Transformers should be connected as close as possible to the mains/generator power supply. These are also available in single phase producing 110v outlet power.
Features and Benefits
Heavy-duty steel enclosure. Double wound with safety earth screen. Protected by MCB's. Manufactured to BS EN 61558-2-23.
Specifications
| | |
| --- | --- |
| Continuous Power | 10kva |
| IP Ratings | IP23 |
| KVA | 10kva |
| No. of Outlets | 4 x 16a & 2 x 32a outlets |
| Phase Out | Single |
| Power Phase | 3 |
| Product Model | TCS -3 10000/6 |
| Size | 545 x 430 x 370mm |
| Voltage In | 415 |
| Voltage Out | 110 |
| Weight | 93kg |
Product Comparison
| Product Name | Depth: mm | Height: mm | No. of Outlets | Type | Voltage In: V | Voltage Out: V | Weight: kg | Width: mm | Continuous Power | IP Ratings | KVA | Phase Out | Power Phase | Product Model | Size | Voltage In | Voltage Out | Weight | Depth | Height | Width | Price |
| --- | --- | --- | --- | --- | --- | --- | --- | --- | --- | --- | --- | --- | --- | --- | --- | --- | --- | --- | --- | --- | --- | --- |
| Site Transformer 10.0kVA (1 Phase) | 460 | 520 | 6 | Portable | 240 | 110 | 53 | 370 | N/A | N/A | N/A | N/A | N/A | N/A | N/A | N/A | N/A | N/A | N/A | N/A | N/A | |
| Site Transformer 10kva (3 Phase) | N/A | N/A | 4 x 16a & 2 x 32a outlets | N/A | N/A | N/A | N/A | N/A | 10kva | IP23 | 10kva | Single | 3 | TCS -3 10000/6 | 545 x 430 x 370mm | 415 | 110 | 93kg | N/A | N/A | N/A | |
| Site Transformer 15kva (3 Phase) | N/A | N/A | 6 x 16a & 3 x 32a | N/A | N/A | N/A | N/A | N/A | 15kva | N/A | 15kva | N/A | 3 | TCS-3 15000/9 | N/A | N/A | N/A | 130kg | 570mm | 710mm | 570mm | |