Pipe Threader - Ridgid 300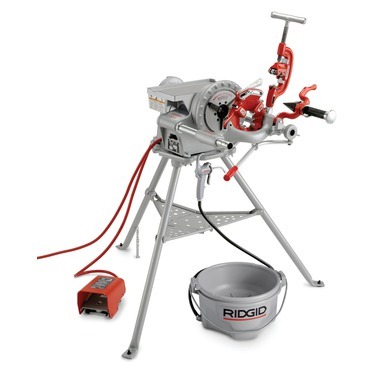 Pipe Threader - Ridgid 300
Product Code: 17/0340-h
The professionals' electric threading, cutting and reaming machine for steel pipes. For use on-site or in the workshop, complete with stand, hands free foot switch and lubrication system. 1/8 and 1/4 - 3/8in dies are available at extra cost.
Features and Benefits
Features heavy-duty proven performance. Lightweight, portable design. Fast transport and set-up. Self-Contained Oil System with adjustable flow control. Versatility for threading and grooving. Quiet operation. Approved by CSA to CSA and UL standards.
Specifications
| | |
| --- | --- |
| Decibel Reading: dB[A] | 93 |
| Product Model | 12891 |
| Size | 1/8 - 2in |
| Vibration Reading: m\s² | 2.5 |
| Voltage: V | 110 |
| Weight | 52.3kg |
Product Comparison
| Product Name | Decibel Reading: dB[A] | Product Model | Size | Vibration Reading: m\s² | Voltage: V | Weight | Chuck Type | Die Cutting Size: In | Input Power: kW | No. of Die Sets | No. of Heads | Product Brand | Speed: RPM | Weight: kg | Power | Threading Capacity: In | Price |
| --- | --- | --- | --- | --- | --- | --- | --- | --- | --- | --- | --- | --- | --- | --- | --- | --- | --- |
| Pipe Threader - Ridgid 300 | 93 | 12891 | 1/8 - 2in | 2.5 | 110 | 52.3kg | N/A | N/A | N/A | N/A | N/A | N/A | N/A | N/A | N/A | N/A | |
| Pipe Threader - Ridgid 1233 | N/A | 1233 | N/A | N/A | 110 | N/A | Hammer-Type with Replaceable Rocker-Action Jaw Inserts | Set 1: 1/2 - 3/4, Set 2: 1 - 2, Set 3: 21/2 - 3 | 1.7 | 3 | 2 | PTS | 36 | 102 | N/A | N/A | |
| Pipe Threader - Ridgid 1224 | 93 | Threading Machine | 1/4 - 4in | 2.5 | 110 | 231kg | N/A | N/A | N/A | N/A | N/A | N/A | N/A | N/A | 110v | 1/4 - 2in piper at 36RPM and 2 1/2 - 4in at 12RPM | |