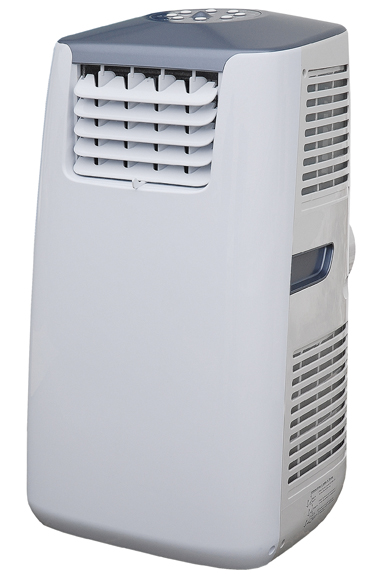 Online Price
Air Conditioner - Small
Product Code: 20/0031-h
Smart and powerful air conditioner with a cooling capacity of 9,000 BTU. Ideal for indoor applications and offers a reliable solution to internal cooling.
Online Price. Log in for bespoke rates. All prices exclusive of VAT.
Features and Benefits
Digital controls. Humidity removal = 18 ltr/Day. Rotary compressor, timer and thermostat.
Specifications
| | |
| --- | --- |
| Consumption | 1kw / 4.6a |
| Cooling Capacity | up to 10000 BTU |
| Decibel Reading: dB[A] | 63 |
| Depth | 340mm |
| Height | 780mm |
| Power Input | 50Hz single phase |
| Product Model | Airconco Mini |
| Rated Power | 2.6kW |
| Recommended Area | Upto 24.2m |
| Voltage: V | 240 |
| Water Capacity | 2.5ltr |
| Weight | 27kg |
| Width | 394mm |
Product Comparison
| Product Name | Consumption | Cooling Capacity | Decibel Reading: dB[A] | Depth | Height | Power Input | Product Model | Rated Power | Recommended Area | Voltage: V | Water Capacity | Weight | Width | Airflow: m³\h | Cooling Capacity: BTU\Hr | Cooling Rated Power: kW | Depth: mm | Height: mm | Input Power: W | IP Rating [Plug] | Plug Type: Amps | Recommended Area: m³ | Sound Power Level: Lw dB[A] | Weight: kg | Width: mm | Working Temperature: °C | Air Displacement: m³\Hr | Cooling Area: m² | Max. Cooling: Amps | Price |
| --- | --- | --- | --- | --- | --- | --- | --- | --- | --- | --- | --- | --- | --- | --- | --- | --- | --- | --- | --- | --- | --- | --- | --- | --- | --- | --- | --- | --- | --- | --- |
| Air Conditioner - Small | 1kw / 4.6a | up to 10000 BTU | 63 | 340mm | 780mm | 50Hz single phase | Airconco Mini | 2.6kW | Upto 24.2m | 240 | 2.5ltr | 27kg | 394mm | N/A | N/A | N/A | N/A | N/A | N/A | N/A | N/A | N/A | N/A | N/A | N/A | N/A | N/A | N/A | N/A | £32.62 / week |
| Portable Air Conditioner Medium 240v 37Kg | N/A | N/A | N/A | N/A | N/A | N/A | N/A | N/A | N/A | 240 | N/A | N/A | N/A | 600 | 16,000 | 4.6 | 440 | 825 | 1,875 | IP20 | 13 | 90 | 54 | 37 | 425 | 18 - 32 | N/A | N/A | N/A | £90.00 / week |
| 6.1 kW Portable Air Conditioner 240V 86kg | N/A | N/A | N/A | N/A | N/A | N/A | N/A | N/A | N/A | 240 | N/A | N/A | N/A | N/A | 21,000 | 6.1 | 600 | 1,320 | 2,400 | IP20 | 13 | N/A | 60 | 86 | 500 | N/A | 459 | 49 | 11 | £150.00 / week |