Evaporative Cooler - Large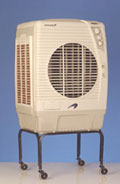 Evaporative Cooler - Large
Product Code: 20/0039-h
Hugely powerful air conditioning system with the power to cool a 60m² room. Ideal for shops, pubs, clubs, workshops and other large indoor areas, can also be used in multiples for larger applications.
---
Features and Benefits
The Kenstar cyclone offers a sea breeze cooling effect the powerful fan covers a large area. Very easy placement as this type of unit does not require an exhaust hose. Allows the possibility of continuous water feed via a ballcock and valve system which can eliminate the need to fill the 40ltr tank manually. Supplied trolley for further ease of placement, very tough construction for longevity.
Specifications
| | |
| --- | --- |
| Weight | 25kg |
| Model | Kenstar Cyclone |
| Height | 0.91m |
| Depth | 0.54m |
| Width | 0.64m |
| Voltage: V | 240v |
| Water Capacity | 45ltr |
| Water Consumption | 10ltr/hr |
| Cooling Capacity | Cooling Area = 60m² |
| Flow Rate | 2700m³/hr |
Product Comparison
| Product Name | Weight | Height | Depth | Width | Range | Voltage: V | Water Capacity | Water Consumption | Cooling Capacity | Flow Rate | Price |
| --- | --- | --- | --- | --- | --- | --- | --- | --- | --- | --- | --- |
| Evaporative Cooler - Medium | 22kg | 0.92m | 0.54m | 0.64m | 430ft² | 240v | 45ltr | 5.5ltr/hr | Cooling Area = 40m² | 1700m³/hr | |
| Evaporative Cooler - Large | 25kg | 0.91m | 0.54m | 0.64m | N/A | 240v | 45ltr | 10ltr/hr | Cooling Area = 60m² | 2700m³/hr | |