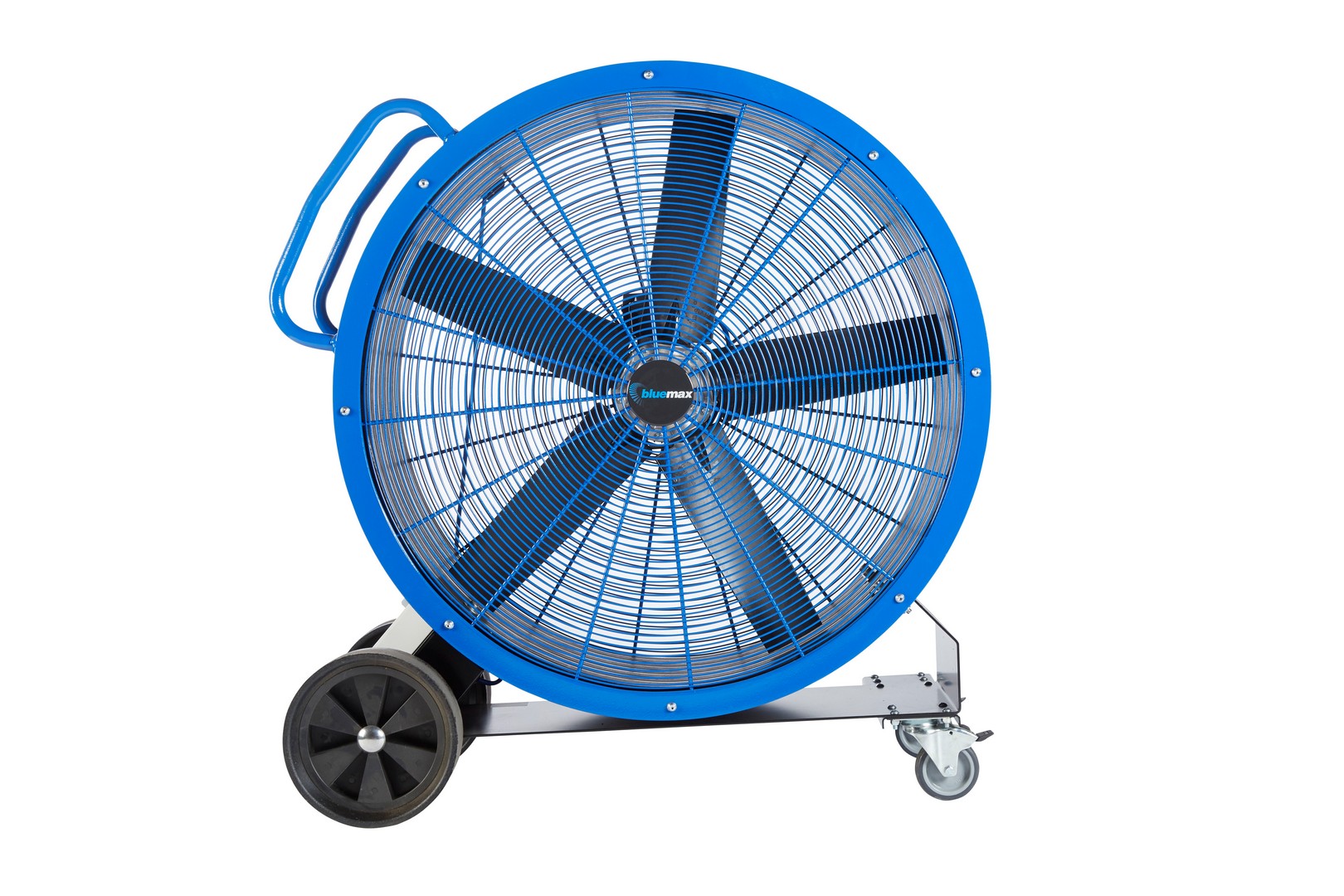 Warehouse Fan
Product Code: 20/0041-h
The Bluemax 950 fan was developed as a large volume mobile air mover and is the largest free standing industrial fan on the market. It also doubles as an extractor fan for use in warehouses, factories, bakeries, mills and foundries. It gives out an impressive 20,000 CFM and is available as 110V or 20V.
---
Features and Benefits
Robust tubular stand with rubber wheels, heavy duty fan guards, built to take the tough knocks of the construction industry.
Specifications
| | |
| --- | --- |
| Weight | 85kg |
| Model | BLUEMAX 950 |
| Height | 1.17m |
| Depth | 440mm |
| Width | 1.05m |
| Voltage: V | 110v / 230v |
| Dimensions | 1.17x1.05m |
| Diameter | 900mm |
| Max Output | 37000m³/hr |
Product Comparison
| Product Name | Weight | Height | Depth | Width | Flow | Voltage: V | Dimensions | Motor | Diameter | Max Output | Current | Impeller Type | Cable Length | Plug | Decibel Reading: dB[A] | Output | Input | Air Displacement | Price |
| --- | --- | --- | --- | --- | --- | --- | --- | --- | --- | --- | --- | --- | --- | --- | --- | --- | --- | --- | --- |
| Turbo Fan | 110kg | 1.37m | 560mm | 1.27m | Variable | 110v / 240v | 1.37x1.27m | 860w | 800mm | 18000m³/hr | 110v or 240v | 7 Blade | 3m | 16a - 13a | N/A | N/A | N/A | N/A | |
| Warehouse Fan | 85kg | 1.17m | 440mm | 1.05m | N/A | 110v / 230v | 1.17x1.05m | N/A | 900mm | 37000m³/hr | N/A | N/A | N/A | N/A | N/A | N/A | N/A | N/A | |
| Crowd Cooler Fan | 18kg | 820mm | 600mm | 800mm | Variable | 110v / 240v | 0.682x0.8m | 780w | 500mm | 8000m³/hr | 6.8a or 3.4a | 7 Blade | 3m | 16a - 13a | 69 | 1400 to 9100m³/hr | 110v or 240v | 5,000m/h | |