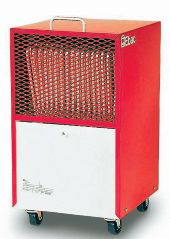 EIPL BD70 Dehumidifier
Product Code: 20/0052-h
The medium capacity BD70 is the ideal choice for plasterers, decorators and the finishing trade when drying out single rooms and extensions. Highly manoeuvrable for easy use, whilst still very durable for the construction industry.
---
Features and Benefits
Suitable For Burst Pipes, Roof Leakage, Deflooding, Carpet Shampooing. Single Speed Fan. Continues Drainage Facility. Hot Gas defrost For Low temperature Operation.
Specifications
| | |
| --- | --- |
| Air Displacement: m³\Hr | 170 |
| Engine Power: kW | 0.46 |
| Extraction Rate | 12ltr in 24 hours (subject to conditions) |
| Height: mm | 610 |
| Max. Operating Temp: °C | 35 |
| Min. Operating Temp: °C | 3 |
| Product Model | BD70 (1022900) |
| Sound Pressure Level: dB[A] | 47 |
| Voltage: V | 110 |
| Weight: Kg | 25 |
| Width: mm | 320 |
Product Comparison
| Product Name | Amps | Decibel Reading: dB[A] | Depth | Extraction Rate | Height | Operating Temperature | Power Output | Product Model | Voltage: V | Weight | Width | Air Displacement: m³\Hr | Engine Power: kW | Height: mm | Max. Operating Temp: °C | Min. Operating Temp: °C | Sound Pressure Level: dB[A] | Weight: Kg | Width: mm | Airflow | Dimensions | Portable Transformer | Water Removal | weight w cord and hose | Price |
| --- | --- | --- | --- | --- | --- | --- | --- | --- | --- | --- | --- | --- | --- | --- | --- | --- | --- | --- | --- | --- | --- | --- | --- | --- | --- |
| Dehumidifier - Electric - Large | 6.5a (110v), 0.76kw (240v) | 73.4 | 850mm | 25ltr/day (27degC/60% RH) – AHAM, 48ltr/day (32deg C/90% RH) – max, 43ltr/day (30degC/80% RH), 21ltr/day (20°C/60% RH) | 510mm | 1 - 38degC | 0.72kw (110v), 0.76kw (240v) | BD1000 | 110v / 240v | 39kg | 500mm | N/A | N/A | N/A | N/A | N/A | N/A | N/A | N/A | N/A | N/A | N/A | N/A | N/A | £95.00 / week |
| EIPL BD70 Dehumidifier | N/A | N/A | N/A | 12ltr in 24 hours (subject to conditions) | N/A | N/A | N/A | BD70 (1022900) | 110 | N/A | N/A | 170 | 0.46 | 610 | 35 | 3 | 47 | 25 | 320 | N/A | N/A | N/A | N/A | N/A | |
| The Cube Dehumidifier | N/A | 47 | 488mm | 43L/day (30°C/80% RH) 28 L/day (26.7°C/60% RH) 22 L/day (20°C/60% RH) | 615mm | 3 - 35degC | N/A | The Cube | N/A | 22.77kg | 508mm | N/A | N/A | N/A | N/A | N/A | N/A | N/A | N/A | 152m³/hr | W28.7 × H38.9 × D40.1 cm | 5kw | (30°C/80% RH): 43L/day (26.7°C/60% RH): 28 L/day (20°C/60% RH): 22 L/day | 22.7 kg | |