Rechargeable Lantern Light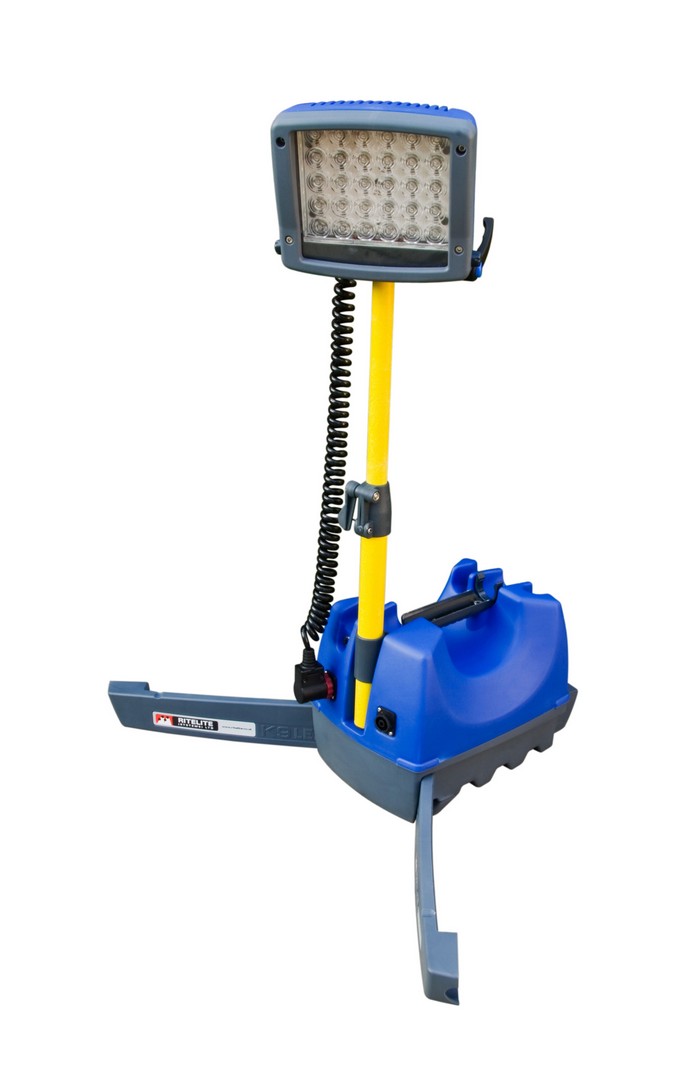 Rechargeable Lantern Light
Product Code: 22/0185-h
A Portable Worklight that gives ultimate power, control and performance that is also a Torch, Worklight and Floodlight in one! The K9 30 LED is a versatile and portable LED torch / worklight system designed for patrol, inspection and emergency work situations. This product design represents the latest technology in LED portable lighting and is designed to be virtually maintenance free and robust enough to deal with the rigours of a harsh work environment.
---
Features and Benefits
Battery can be swapped to extend light duration
Multiple units can be controlled via BluetoothÆ App
Up to 28 hours run time Full time battery level indicator with low level flashing indicator
Deployable mast with 3408 rotation
Maintenance free LED array with 50,000 hour life expectancy
Easy and quick to set up self-contained system <special id="
Specifications
| | |
| --- | --- |
| Weight | 11.8kg |
| Model | K9 30LED |
| Wattage | 3No 18w Bulbs |
| Voltage: V | 240v (Charger) |
| Running Time | 8hrs at 100% |
| Lumens | 6500 (high power) |
Product Comparison
| Product Name | Weight | Height | Depth | Width | Closed Height | Power | Voltage: V | Running Time | Light Output Lumens | IP Ratings | Open Height | Lumens | Wattage | Battery Voltage | Dimensions | Battery Life | Charging Time Hours | Rating | Light Source LED | Icons | Light Source | Price |
| --- | --- | --- | --- | --- | --- | --- | --- | --- | --- | --- | --- | --- | --- | --- | --- | --- | --- | --- | --- | --- | --- | --- |
| LED Smith Light | 8.4kg | 580mm | 220mm | 334mm | 600mm | 10amp | 240v (Charger) | One Head: 12hrs / Both Heads: 6hrs | 2060 | IP65 | 1.1m | 2060 | N/A | N/A | N/A | N/A | N/A | N/A | N/A | N/A | N/A | |
| Rechargeable Lantern Light | 11.8kg | N/A | N/A | N/A | N/A | N/A | 240v (Charger) | 8hrs at 100% | N/A | N/A | N/A | 6500 (high power) | 3No 18w Bulbs | N/A | N/A | N/A | N/A | N/A | N/A | N/A | N/A | |
| Rechargeable Lantern Light | 14.51kg | N/A | N/A | N/A | N/A | N/A | N/A | N/A | N/A | N/A | N/A | 6000 | N/A | 12V | 50.8cm x 16.5cm x 28.6cm | 3.5-24hrs | 8hrs | IP54 | 10LED | N/A | N/A | |
| Galaxy Pro Rechargeable Work Light | 1.5kg | N/A | N/A | N/A | N/A | N/A | 7.4V | 8hrs at 50% | N/A | IP54 | N/A | 3500 (high mode) | N/A | N/A | 310x350x285mm | N/A | N/A | N/A | N/A | NEW | LED | |