Piper 200 Pipe Laser c/w Accessories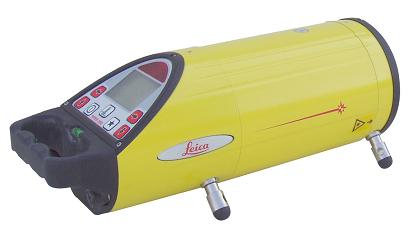 Piper 200 Pipe Laser c/w Accessories
Product Code: 24/0204-h
Powerful and compact, the Leica Piper is the only pipe laser that fits inside a 100 mm (four inch) pipe. It is built with solid cast-aluminium housings, and is loaded with features that will improve productivity and minimize downtime on the jobsite.
Features and Benefits
Has a large clear display that makes it easier for contractors to read grade, line position, battery status, and level indication. The intelligent battery monitors the amount of charge/discharge so that contractors always know how much battery life they have left. The bright, visible beam is focused to maintain its crisp, clear spot and size over long distances. Automatic grade compensation easily identifies and corrects grade errors. It automatically self-levels over a full grade range, and eliminates the need to tip the laser for steep slopes. The Piper 200 features the Alignmaster function, a patented automatic targeting system that searches and finds the target for fast second day setups.
Specifications
| | |
| --- | --- |
| Accuracy | +/-1.6mm@30m |
| Diameter | 96mm |
| Elevation Alert | Yes |
| Fit inside a 100mm or 4 inch pipe | Yes |
| Grade Capability | -10 To + 25% |
| Grade Entry with Display | Yes |
| Gravity Flowpipes | Yes |
| Installing Septic and Gravity Flow Pipe for Drainage | Yes |
| IP Ratings | X8 |
| Length | 267mm |
| Marketing Message | Hire Rate per Week |
| Operating Temperature | -20 To +50 |
| Product Model | Leica 6770 |
| Remote Control | Yes |
| Self Levelling | Yes |
| Storm & Sanitary Sewer Construction | Yes |
| Weight | 2kg |
| Working Range | 200m |
Product Comparison
| Product Name | Accuracy | Elevation Alert | Grade Capability | Grade Entry with Display | Gravity Flowpipes | Installing Septic and Gravity Flow Pipe for Drainage | Operating Temperature | Product Model | Range | Remote Control | Self Levelling | Storm & Sanitary Sewer Construction | Working Range | Diameter | Fit inside a 100mm or 4 inch pipe | IP Ratings | Length | Marketing Message | Weight | Battery Life | Beam Masking | Dual Grade | Fully Automatic Self Levelling | High Visible Beam for quick & easy location | Invisible Laser Beam IR | Operating Range | Out of Level Indicator Light | Product Brand | Remote Control Range | Selectable Rotating Speeds | Wind Sensitivity Settings | Price |
| --- | --- | --- | --- | --- | --- | --- | --- | --- | --- | --- | --- | --- | --- | --- | --- | --- | --- | --- | --- | --- | --- | --- | --- | --- | --- | --- | --- | --- | --- | --- | --- | --- |
| Topcon Pipe Laser c/w Accessories | +/-10 arc seconds | Yes | -15 To + 40% | Yes | Yes | Yes | -20 To +50 | Topcon TP-L5 | 200m | Yes | Yes | Yes | 200m | N/A | N/A | N/A | N/A | N/A | N/A | N/A | N/A | N/A | N/A | N/A | N/A | N/A | N/A | N/A | N/A | N/A | N/A | |
| Piper 200 Pipe Laser c/w Accessories | +/-1.6mm@30m | Yes | -10 To + 25% | Yes | Yes | Yes | -20 To +50 | Leica 6770 | N/A | Yes | Yes | Yes | 200m | 96mm | Yes | X8 | 267mm | Hire Rate per Week | 2kg | N/A | N/A | N/A | N/A | N/A | N/A | N/A | N/A | N/A | N/A | N/A | N/A | |
| Leica LB10 Rotating Exterior Laser | +/-1.5mm Per 30m | N/A | N/A | N/A | N/A | N/A | N/A | LB-10 | N/A | N/A | N/A | N/A | N/A | N/A | N/A | IPX-6 | N/A | N/A | N/A | Yes | Yes | Yes | Yes | Yes | Yes | Yes | Yes | Leica | Yes | Yes | Yes | |