Material Lift - SLA20 363kg SWL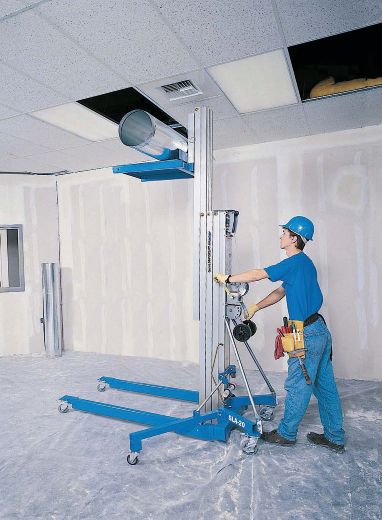 Material Lift - SLA20 363kg SWL
Product Code: 71/5015-h
A range of versatile lightweight aluminium material lifts, extending to a variety of heights up to 25ft. These compact material lifts have multiple uses in the construction, entertainment, engineering and maintenance sectors. Speedy hold the UK's largest fleet of Genie material lifts available for hire, plus a wide range of accessory options.
---
Features and Benefits
The unit sets up quickly without any tools and is ready to go to work in seconds. The rear transport wheel also allows manoeuvrability on uneven surfaces. Legs fold up and attachments are removable for easy storage and loading.
Specifications
| | |
| --- | --- |
| Base | Standard |
| Height | 1.99m |
| HOL [Forks Down] | 5.94m |
| HOL [Forks Up] | 6.46m |
| Length | Closed: 740mm / Open: 2.08m |
| Product Model | SLA-20 |
| Safe Working Load | 363kg |
| Size | 2.08 x 0.8 x 2m |
| Weight | 184kg |
| Width | Closed: 800mm / Open: 1.85m |
Product Comparison
| Product Name | Height Stowed: mm | HOL Forks Down: m | Length Deployed: mm | Length Stowed: mm | Power Supply | Product Brand | Product Model | Safe Working Load: Kg | Weight: Kg | Width Deployed: mm | Width Stowed: mm | Ground Clearance Centre: mm | Load capacity 107 cm load centre: Kg | Load capacity 46 cm load centre: Kg | Load capacity 61 cm load centre: Kg | Width Stabilisers Lowered: mm | Base | Height | HOL [Forks Down] | HOL [Forks Up] | Length | Safe Working Load | Size | Weight | Width | Price |
| --- | --- | --- | --- | --- | --- | --- | --- | --- | --- | --- | --- | --- | --- | --- | --- | --- | --- | --- | --- | --- | --- | --- | --- | --- | --- | --- |
| Genie SLA10 Material Lift 454kg SWL | 2000 | 3 | 1500 | 740 | Manual | Genie | SLA-10 | 454 | 118 | 800 | 800 | N/A | N/A | N/A | N/A | N/A | N/A | N/A | N/A | N/A | N/A | N/A | N/A | N/A | N/A | |
| Genie SLA-15 Material Lift 363KG SWL | 2000 | 4.46 | 1880 | 740 | Manual | Genie | SLA-15 | 363 | 151 | N/A | 800 | 50 | 227 | 363 | 363 | 1850 | N/A | N/A | N/A | N/A | N/A | N/A | N/A | N/A | N/A | |
| Material Lift - SLA20 363kg SWL | N/A | N/A | N/A | N/A | N/A | N/A | SLA-20 | N/A | N/A | N/A | N/A | N/A | N/A | N/A | N/A | N/A | Standard | 1.99m | 5.94m | 6.46m | Closed: 740mm / Open: 2.08m | 363kg | 2.08 x 0.8 x 2m | 184kg | Closed: 800mm / Open: 1.85m | |
| Material Lift - SLA25 295kg SWL | N/A | N/A | N/A | N/A | N/A | N/A | SLA-25 | N/A | N/A | N/A | N/A | N/A | N/A | N/A | N/A | N/A | Standard | 1.99m | 7.42m | 7.94m | Closed: 790mm / Open: 2.08m | 295kg | 2.08 x 0.8 x 2m | 204kg | Closed: 800mm / Open: 1.85m | |