Material Lift - GL10 Counter Weight Base 159kg SWL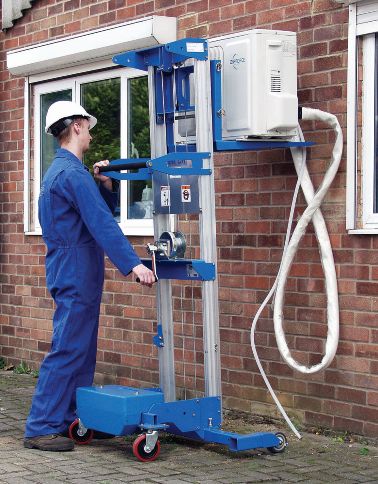 Material Lift - GL10 Counter Weight Base 159kg SWL
Product Code: 71/5120-h
Can be used as a hand truck or fork lift. Able to lift loads flush to walls.
---
Features and Benefits
Single door access. Hold down mechanism secures carriage during transport. Winch operates while ladder is in use or stowed. 12 cm rear swivel castors with side brakes and 10cm dual front wheels.
Specifications
| | |
| --- | --- |
| Base | Counterbalanced |
| Height | Stowed: 2m, Maximum: |
| HOL | 3m |
| Length | 0.72m |
| Platform Size: mm | 0.58 x 0.56m |
| Product Model | GL-10 Counter |
| Safe Working Load | 159kg |
| Size | 2x0.72x1.1m |
| Weight | 196kg |
| Width | Stowed: 0.63m, Open: |
Product Comparison
| Product Name | Base | Height | HOL | Length | Platform Height | Platform Length | Product Model | Safe Working Load | Weight | Width | HOL [Forks Down] | Size | Platform Size: mm | Price |
| --- | --- | --- | --- | --- | --- | --- | --- | --- | --- | --- | --- | --- | --- | --- |
| Material Lift GL4 | Standard | 1.72m | 1.26m | 0.88m | 580mm | 560mm | GL-4 STANDARD | 227kg | 51kg | 630mm | N/A | N/A | N/A | |
| Material Lift GL8 | Standard | 1.72m | 2.51m | 0.88m | 580mm | 560mm | GL-8 STAN | 181kg | 60kg | 630mm | 2.51m | 0.88 x 0.63 x 1.72m | N/A | |
| Material Lift - GL10 Counter Weight Base 159kg SWL | Counterbalanced | Stowed: 2m, Maximum: | 3m | 0.72m | N/A | N/A | GL-10 Counter | 159kg | 196kg | Stowed: 0.63m, Open: | N/A | 2x0.72x1.1m | 0.58 x 0.56m | |
| Material Lift GL12 | Straddle | 2.31m | 3.66m | 1.09m | 580mm | 560mm | GL-12 Strad | 159kg | 70kg | 730mm | 3.66m | 2.31x1.09x1.10m | N/A | |