Bumpa Hoist - 10m - 110v 80kg SWL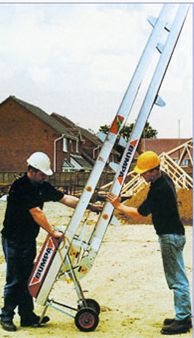 Bumpa Hoist - 10m - 110v 80kg SWL
Product Code: 71/5215-h
The Bumpa is designed for the roofer. An ingenious tile lifter specially designed to move tiles and slates up to where they are needed quickly with the minimum of effort. This unit is reversible and can be used for the removal of roof tiles, etc.
---
Features and Benefits
Quick to erect - up and running in under 4 minutes. Loads tiles, fittings, felt bricks, blocks, mortar, etc - faster than any other competitor. Continuous action - no waiting for platforms to be loaded/unloaded. Easily moved, repositioned in seconds. Easily manoeuvred by 2 men even on difficult sites.
Specifications
| | |
| --- | --- |
| Length | 10m |
| Portable Transformer | 3kw |
| Power Supply | 110v |
| Product Model | N/A |
| Safe Working Load | 80kg |
| Weight | 119kg |
Product Comparison
| Product Name | Belt Speed: m\min | Length: m | Max. Carrier Payload: Kg | Max. Payload: kg | Max. Working Height: m | Maximum Angle: ° | Motor Power: kW | Product Brand | Product Model | Sound Power Level: Lw dB[A] | Storage Dimensions: mm | Voltage: V | Weight: kg | Length | Power Supply | Safe Working Load | Weight | Portable Transformer | Price |
| --- | --- | --- | --- | --- | --- | --- | --- | --- | --- | --- | --- | --- | --- | --- | --- | --- | --- | --- | --- |
| Mace Bumpa 8E Hoist 8m 110v 80Kg SWL | 20 | 8 | 20 | 80 | 7.0 | 65 | 0.75 | Mace | BUMPA8E | 75 | 850 x 4300 x 600 | 110 | 103 | N/A | N/A | N/A | N/A | N/A | |
| Bumpa Hoist - 8m - Petrol 80kg SWL | N/A | N/A | N/A | N/A | N/A | N/A | N/A | N/A | N/A | N/A | N/A | N/A | N/A | 8m | Petrol | 80kg | N/A | N/A | |
| Bumpa Hoist - 10m - Petrol 80kg SWL | N/A | N/A | N/A | N/A | N/A | N/A | N/A | N/A | N/A | N/A | N/A | N/A | N/A | 10m | Petrol | 80kg | 97kg | N/A | |
| Bumpa Hoist - 10m - 110v 80kg SWL | N/A | N/A | N/A | N/A | N/A | N/A | N/A | N/A | N/A | N/A | N/A | N/A | N/A | 10m | 110v | 80kg | 119kg | 3kw | |