Sack Truck 200kg SWL Solid Tyre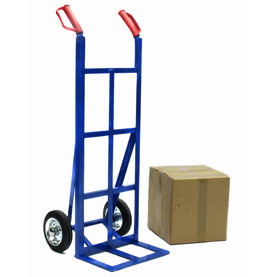 Online Price
Sack Truck 200kg SWL Solid Tyre
Product Code: 71/5940-h
For loads too heavy to carry manually.
£12.00

£16.00

£20.00

£4.00

Online Price. Log in for bespoke rates. All prices exclusive of VAT.
Features and Benefits
The BT/ST10 Heavy duty sack truck. This durable sack truck will address many different uses within the working environment. Made from strong tube and angle construction.
Specifications
| | |
| --- | --- |
| Overall [Height]: mm | 1220mm |
| Platform Height | 315mm |
| Platform Length | 230mm |
| Product Model | BTST10 |
| Safe Working Load | 200kg |
| Shoe Length | 230mm |
| Weight | 18.74kg |
| Wheels | 200mm |
| Width | 480mm |
Product Comparison
| Product Name | Overall [Height]: mm | Platform Height | Platform Length | Product Model | Safe Working Load | Shoe Length | Weight | Wheels | Width | Height | Price |
| --- | --- | --- | --- | --- | --- | --- | --- | --- | --- | --- | --- |
| Sack Truck 200kg SWL Solid Tyre | 1220mm | 315mm | 230mm | BTST10 | 200kg | 230mm | 18.74kg | 200mm | 480mm | N/A | £20.00 / week |
| Sack Truck 200kg SWL Pnuematic Tyre | 1420mm | 316mm | 230mm | BTSTK10 | 200kg | 240mm | 18.74kg | 200mm | 480mm | 1.22m | £20.40 / week |