Aero Go Skates 32.7t SWL 35mm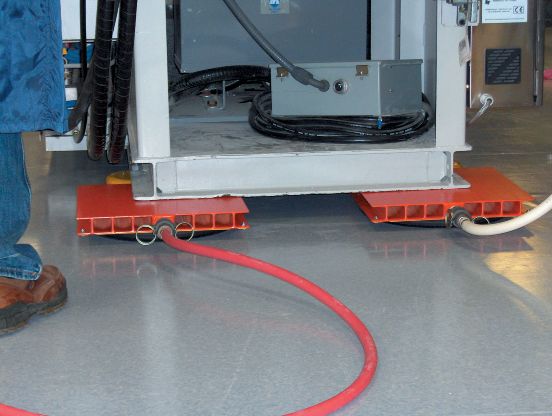 Aero Go Skates 32.7t SWL 35mm
Product Code: 71/6385-h
Aerogo heavy duty air castor rigging systems provide a superior way to move loads of any size, shape or weight. Also referred to as air skates or air dollies, this versatile heavy load rigging product can be positioned under any load shape to provide support where needed.
---
Features and Benefits
The air castor advantage: Super low friction - Our Air Castor Rigging Systems float your load on a nearly frictionless film of air often allowing heavier loads to often be moved manually in addition to protecting delicate or expensive floors from scratching or damage. Highly Maneuverable - Unlike caster wheels and rollers, which resist changes in direction, air castors provide omnidirectional movement, requiring no additional force to change direction. This allows awkward or bulky loads to be maneuvered in tight spaces that would be impossible with conventional methods. Low profile - The thin profile of our air castor load module makes it easy to insert under most equipment, eliminating the need for a separate jacking operation as well as providing vertical lift when inflated Low profile modules make it easy to insert under most equipment - Separate air jacks are not required- Omnidirectional: directional change is easy with frictionless air castors- Aerospace-grade aluminum pallets are 50% lighter than steel- Heavy loads can be moved manually, without tow vehicles or winches- Individual pressure regulators compensate for unequal load distribution.
Specifications
| | |
| --- | --- |
| HOL | 35mm |
| Length | 689mm |
| Product Model | 6K27NL |
| Safe Working Load | 32.5t |
| Weight | 182kg |
| Width | 689mm |