Plant Nappy Liner Medium 1000mm x 685mm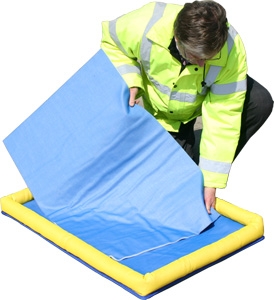 Plant Nappy Liner Medium 1000mm x 685mm
Product Code: C0799010A-s
Plant Nappy Liners to suit the Plant Nappy - The Plant Nappy is a new, light and user friendly method of spill containment designed to replace existing, traditional drip trays. Designed to withstand all weather conditions, it is rugged enough to stand plant on it all year round to contain the odd mishap that could occur on site. The design allows drips of oil or fuel to be caught in the base and rainfall to escape through the side walls as pure clean water. The base of the mat is non-permeable fabric laminated with an oil soak filter, to absorb the oil, and protected by a permeable top fabric to allow free passage of containments. The side wall is permeable with a filter fabric that allows free passage of water but not oil. It only discharges clean water. Available in 3 sizes, Small 500mm x 685mm, Medium 1000mm x 685mm & Large 2000mm x 1370mm.
---
Discounted from List Price
All prices exclusive of VAT
---
Features and Benefits
Provides a lightweight alternative to heavy drip trays.
Specifications
| | |
| --- | --- |
| Weight | 1kg |
| Height | 100mm |
| Width | 685mm |
| Length | 1000mm |
| Suppliers Part Number | PN1000L |