BoSS Narrow 1.8m Camlock AGR Tower 3.3m Handrail Height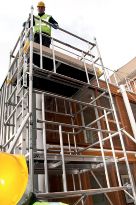 BoSS Narrow 1.8m Camlock AGR Tower 3.3m Handrail Height
Product Code: F18033-h
The BoSS Cam-Lock Advance Guardrail provides an alternative build method for boss Clima, Evolution and Ladderspan towers. The AGR system makes use of specially created guard rail frame units, which are installed during the erection process ensuring that the guard rails are already in place when the operator mounts the working platform. The progressive erection of the guard rails ensures that the operator is never exposed to the risk of falling from an unguarded platform.
Features and Benefits
Ease of assembly - fewer components means a quicker and simpler build. Safety - guardrail in place before user ascends the platform. Tower rigidity - created by positive Cam-Lock action and cross braces in base. No overreaching - a double deck on every level for safety and ease of build. Access to ladder - cross braces can be positioned in the centre of the tower to give clear access to the ladder. Easy to use Cam-Lock - prominent locking handle makes it easy to see whether the AGR is locked even from a distance, allowing easier and quicker inspections. AGR frames less susceptible to loss and damage than braces.
Specifications
| | |
| --- | --- |
| Certification Type | EN1004:2004 |
| Handrail Height: m | 3.3 |
| Material | Aluminium |
| Max. Load Capacity: Kg | 950 |
| Max. Safe Working Load [Per Platform]: Kg | 275 |
| Platform Height: m | 2.3 |
| Platform Width: m | 0.6 |
| Product Brand | Boss |
| Total Length: m | 1.8 |
| Tower Width: m | 0.85 |
| Weight: kg | 112 |
| Working Height: m | 4.3 |