Master DC61 17kW Infrared Oil Fired Heater 14v 21kg
---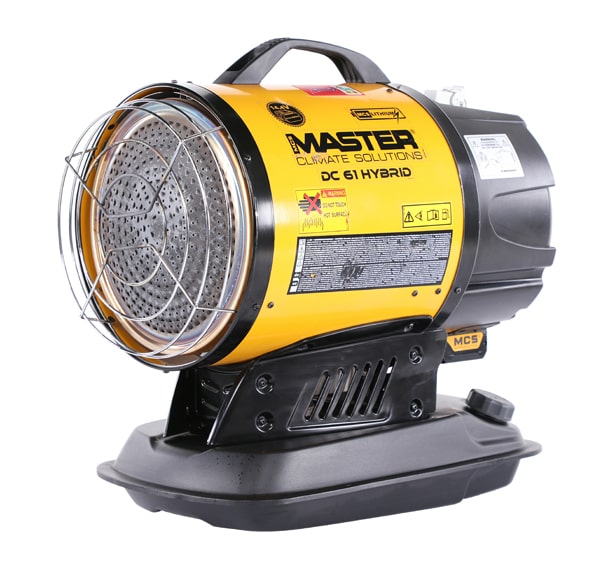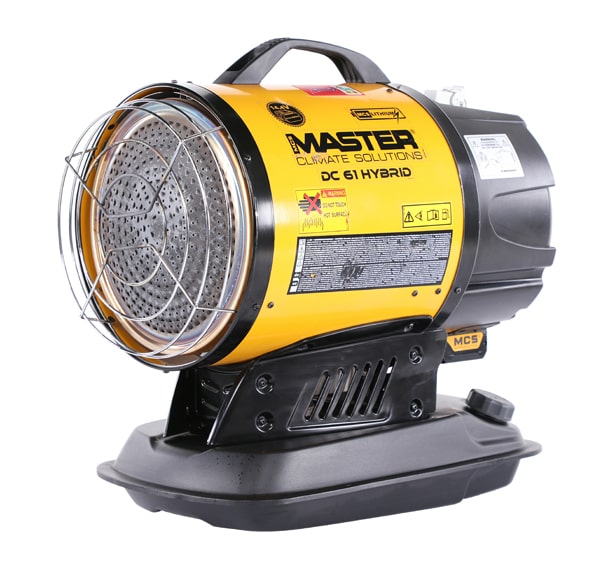 Master DC61 17kW Infrared Oil Fired Heater 14v 21kg
---
The Master DC61 is a portable dual voltage infrared battery oil heater designed to deliver direct to the required location without any air movement. It is suitable for dust-free drying of walls or paints and defrosting machinery or pipe lines. Ideal for use in factories, manufacturing facilities and warehouses.
CHECK AVAILABILITY FOR COLLECTION
Note: changing dates or postcode applies to full order.
Features and Benefits
Ergonomic carry handle for easy lifting
On board power adaptor
Integrated battery storage
Overheat thermostat
Anti-tilt switch
Low noise
Specification and product comparison
---
Battery Capacity: Ah
6
--
--
--
--
Battery Charge Time: Hrs
1
--
--
--
--
Battery Run Time: Hrs
4
--
--
--
--
Battery Type
Li-ion
--
--
--
--
Battery Voltage: V
14
--
--
--
--
Depth: mm
560
420
460
460
560
Fuel Tank Capacity: Ltrs
11
--
--
--
11
Fuel Type
Diesel
--
--
--
Diesel
Heat Output: kW
17
2.8
2.8
2.8
17
Height: mm
575
1,090
1,000
1,000
575
IP Rating
IP20
IP20
--
IP20
IP20
IP Rating [Plug]
IP20
IP44
IP44
IP44
IP44
Plug Type: Amps
13
32
32
16
16
Product Brand
Master
Elite
Rhino
Rhino
Master
Product Model
DC61
EH110MK3
TQ3 H029300
TQ3 H029400
XL61
Voltage: V
240
110
110
240
110
Weight: kg
21
21
14.3
14.3
21
Width: mm
345
615
500
800
345
Lamp Watts: W
--
2 x 1,400
2 x 1,400
2 x 1,400
--
No. of Heat Settings
--
2
2
2
--
Running Time: Hrs
--
--
--
--
7