Metal Vented Transformer 3kVA 110v 31kg
---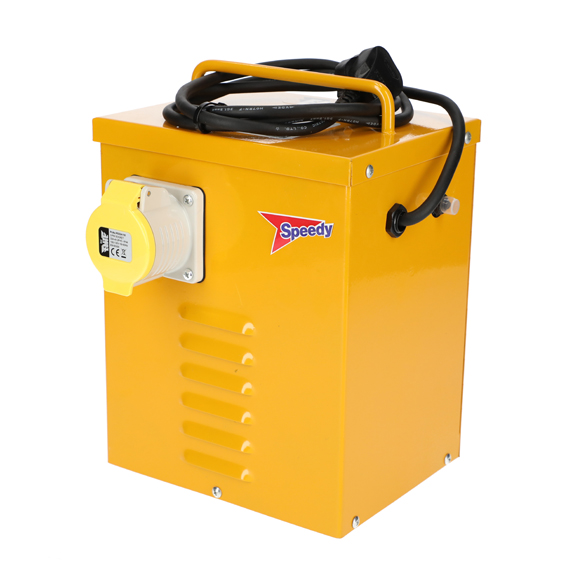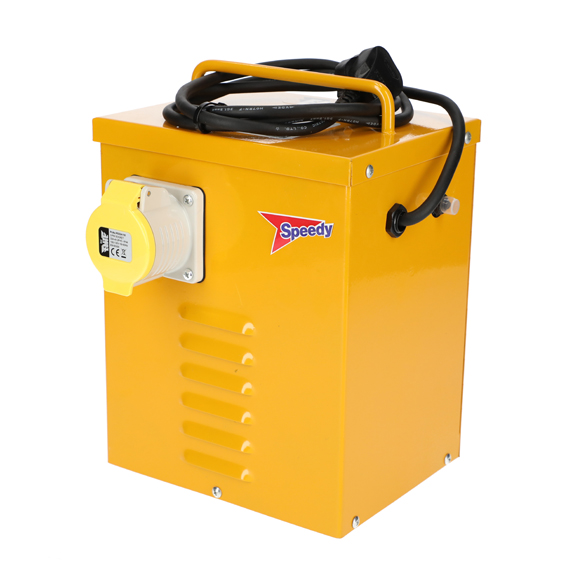 Metal Vented Transformer 3kVA 110v 31kg
---
3kVA 110v continuous rated transformer featuring 1 x 32A outlet with vented body to prevent over heating. Specially designed for use with 110v heaters which makes this ideal for use on building and construction sites.
4 hour delivery
if ordered by 3pm
Click and collect
from over 200 stores
CHECK AVAILABILITY FOR COLLECTION
Note: changing dates or postcode applies to full order.
Features and Benefits
3KVA Continuous Rated
1 x 32 Amp Outlet
Specifically Designed For Use With 110 Volt Heaters
Vented Body To Allow Air Flow
Central handle for easy lifting
Fitted with a thermal cut-off switch
Specification and product comparison
---
Cable Diameter: mm
1.5
1.5
2.5
--
--
--
1.5
Cable Length: m
1.75
1.8
2
--
--
--
1.8
Height: mm
360
285
355
520
690
710
--
IP Rating
IP20
IP44
IP44
IP44
IP44
IP44
IP44
IP Rating [Plug]
IP20
IP20
IP20
IP44
--
--
IP20
Length: mm
265
280
315
460
530
570
--
No. of Outlets
1
2
2
6
6
9
2
Outlet Amps: A
1 x 32
2 x 16
2 x 16, 1 x 32
4 x 16, 2 x 32
4 x 16, 2 x 32
6 x 16, 3 x 32
2 x 16
Output Power: kVA
3
Intermittent: 3, Continuous: 1.5
Intermittent: 5, Continuous: 2.5"
10 Continuous
10 Continuous
15
Intermittent: 1.5, Continuous: 0.75
Plug Type: Amps
13
13
13
--
--
--
13
Voltage In: V
240
240
240
240
415
415
240
Voltage Out: V
110
110
110
110
110
110
110
Weight: kg
31
18
32
53
75
130
11
Width: mm
245
280
--
370
570
570
--
Power Phase
--
--
--
Single
3
3
--
Product Brand
--
--
--
--
--
--
Defender
Product Model
--
--
--
--
--
--
E201512