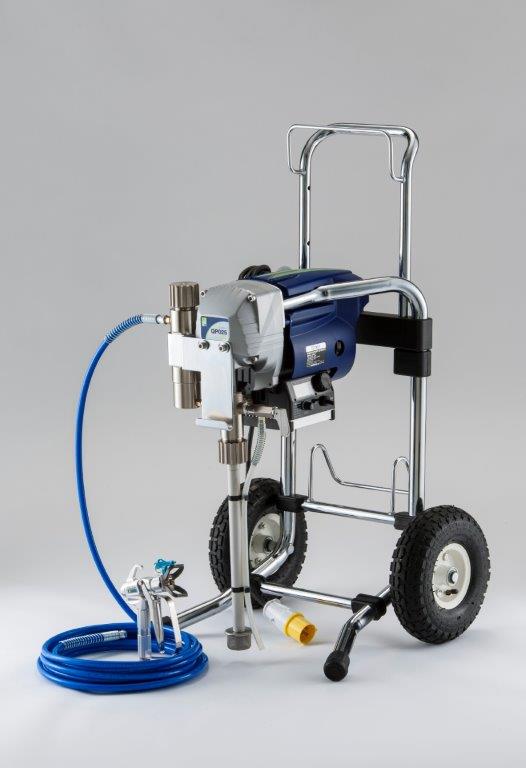 Airless Sprayer QP025
Product Code: 02/0081-h
The new 640i is unequalled in performance, features and warranty. This versatile, portable and highly reliable sprayer now incorporates even more user features and even longer life. Materials to be sprayed: Stains, lacquers, enamels, multicolours, emulsion and smooth masonry paints.
---
Features and Benefits
The 640i has 21% more output than the 440i and comes in 3 configurations. It is ideal for medium to large residential, commercial, and maintenance applications.
Specifications
| | |
| --- | --- |
| Decibel Reading: dB[A] | 80 |
| Head Sizes | 0.58mm max |
| Max Operating Pressure | 207 bar (3000 psi) |
| Portable Transformer | 5kva |
| Product Model | 765-3010 - 640i |
| Voltage: V | 110v |
| Weight | Stand - 17.8kg. Cart - 24.8kg |
Product Comparison
| Product Name | Decibel Reading: dB[A] | Head Sizes | Max Operating Pressure | Portable Transformer | Power Input | Product Model | Voltage: V | Weight | Cycles per Gallon | Engine | Motor | Price |
| --- | --- | --- | --- | --- | --- | --- | --- | --- | --- | --- | --- | --- |
| Airless Sprayer QP021 | 80 | 0.63mm | 207 bar (3000 psi) | 5kva | 1300w | QP025 | 110v | 35kg | N/A | N/A | N/A | |
| Airless Sprayer QP036 | 85 | N/A | 227 bar (3300 psi) | 3kw | N/A | 448-360 - 6900XLTDI | 110v | Petrol - 67kg / Electric - 74kg | 55g | 5.5HP Honda | 110v or 230v Extended Life - DC | |
| Airless Sprayer QP025 | 80 | 0.58mm max | 207 bar (3000 psi) | 5kva | N/A | 765-3010 - 640i | 110v | Stand - 17.8kg. Cart - 24.8kg | N/A | N/A | N/A | |