Heavy Duty Hammer Drill Cordless 24v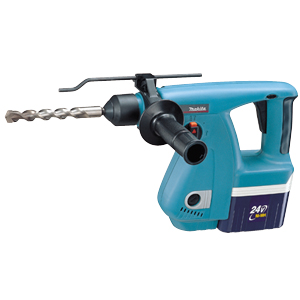 Heavy Duty Hammer Drill Cordless 24v
Product Code: 10/0280-h
The BHR200 is a universal cordless 24 volt tool ideal for drilling into timber and steel, hammer drilling into masonry, and screw driving. The large capacity battery pack enables long lasting performance. Chuck and adaptor available for rotary drilling.
---
Features and Benefits
Low vibration hammer mechanism. SDS plus shank for fast tool changes.
Specifications
| | |
| --- | --- |
| Battery Type | Ni-MH |
| Blows per Minute | 0 - 4400 |
| Charging Time Hours | 1 |
| Chuck Type | SDS+ |
| Decibel Reading: dB[A] | 98 |
| Drilling Capacity Masonry: mm | 20mm |
| Drilling Capacity Metal: mm | 13mm |
| Drilling Capacity Wood: mm | 27mm |
| Impact Power J | 1.3j |
| No Load Speed | 0 - 1100rpm |
| Product Model | BHR200WAE |
| Vibration Reading: m\s² | Drilling - 2.5, Hammer Drilling - 14, Chiseling - 12 |
| Voltage: V | 24v |
| Weight | 3.8kg |
Product Comparison
| Product Name | Battery Type | Chuck Capacity: mm | Chuck Type | Drilling Capacity Concrete: mm | Drilling Capacity Metal: mm | Drilling Capacity Wood: mm | Length: mm | No Load Speed: RPM | Product Brand | Product Model | Sound Power Level: Lw dB[A] | Sound Pressure Level: dB[A] | Torque Range: Nm | Vibration Reading: m\s² | Voltage: V | Weight: kg | Blows per Minute | Charging Time Hours | Decibel Reading: dB[A] | Drilling Capacity Masonry: mm | Impact Power J | No Load Speed | Weight | Battery Capacity: Ah | Battery Voltage: V | Chuck Type: mm | Impact Rate: BPM | Max. Drilling in Concrete: mm | Max. Drilling in Steel: mm | Max. Drilling in Wood: mm | Max. Torque: Nm | Price |
| --- | --- | --- | --- | --- | --- | --- | --- | --- | --- | --- | --- | --- | --- | --- | --- | --- | --- | --- | --- | --- | --- | --- | --- | --- | --- | --- | --- | --- | --- | --- | --- | --- |
| Milwaukee HD28PD-32C Hammer Drill Cordless 28v 2.5kg | Li-Ion | 13 | Keyless Three-Jaw | 20 | 16 | 65 | 237 | Gear 1: 0 - 450, Gear 2: 0 - 1800 | Milwaukee | HD28 PD-32C | 97.5 | 86.5 | 90 | Drilling into Concrete: 11.6, Drilling into Metal: < 2.5, Screw Driving: < 2.5 | 28 | 2.5 | N/A | N/A | N/A | N/A | N/A | N/A | N/A | N/A | N/A | N/A | N/A | N/A | N/A | N/A | N/A | £40.00 / week |
| Heavy Duty Hammer Drill Cordless 24v | Ni-MH | N/A | SDS+ | N/A | 13mm | 27mm | N/A | N/A | N/A | BHR200WAE | N/A | N/A | N/A | Drilling - 2.5, Hammer Drilling - 14, Chiseling - 12 | 24v | N/A | 0 - 4400 | 1 | 98 | 20mm | 1.3j | 0 - 1100rpm | 3.8kg | N/A | N/A | N/A | N/A | N/A | N/A | N/A | N/A | £40.00 / week |
| Milwaukee M18 ONEPD-502X Cordless Hammer Drill 18v 2.5Kg | N/A | N/A | N/A | N/A | N/A | N/A | N/A | 1: 0 - 550, 2: 0 - 2000 | Milwaukee | M18 ONEPD 502X | 110.9 | 99.9 | N/A | N/A | N/A | 2.5 | N/A | N/A | N/A | N/A | N/A | N/A | N/A | 5.0 | 18 | 13 | 0 - 32000 | 13 | 13 | 45 | 135 | £30.00 / week |