Evaporative Cooler - Medium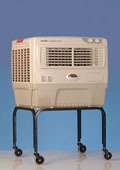 Evaporative Cooler - Medium
Product Code: 20/0038-h
Powerful air conditioner with the ability to cool a 40m² room. Ideal for shops, offices, pubs and workshop applications. Easily filled from front of the unit or can be connected by hose to float valve provided.
---
Features and Benefits
Offers a sea breeze cooling effect, powerful fan covers a wide area, very easy placement as this type of unit does not require an exhaust hose. Allows continuous water supply via a ballcock float / valve system which can eliminate the need to keep filling the water reservoir manually. Trolley supplied for easy manoeuvrability, very tough construction for durability and longevity.
Specifications
| | |
| --- | --- |
| Cooling Capacity | Cooling Area = 40m² |
| Depth | 0.54m |
| Flow Rate | 1700m³/hr |
| Height | 0.92m |
| Phase ID | 5 |
| Product Model | Kenstar Double Cool |
| Range | 430ft² |
| Voltage: V | 240v |
| Water Capacity | 45ltr |
| Water Consumption | 5.5ltr/hr |
| Weight | 22kg |
| Width | 0.64m |
Product Comparison
| Product Name | Cooling Capacity | Depth | Flow Rate | Height | Phase ID | Product Model | Range | Voltage: V | Water Capacity | Water Consumption | Weight | Width | Cooling Area: m² | Depth: mm | Height: mm | Max. Input Power: W | Plug Type: AMP | Power Supply | Product Brand | Sound Power Level: Lw dB[A] | Water Tank Capacity: Ltrs | Weight: Kg | Width: mm | Price |
| --- | --- | --- | --- | --- | --- | --- | --- | --- | --- | --- | --- | --- | --- | --- | --- | --- | --- | --- | --- | --- | --- | --- | --- | --- |
| Evaporative Cooler - Medium | Cooling Area = 40m² | 0.54m | 1700m³/hr | 0.92m | 5 | Kenstar Double Cool | 430ft² | 240v | 45ltr | 5.5ltr/hr | 22kg | 0.64m | N/A | N/A | N/A | N/A | N/A | N/A | N/A | N/A | N/A | N/A | N/A | |
| AirconCo WINTER-I Evaporative Cooler Large 240v | N/A | N/A | N/A | N/A | 2 | WINTER-I | N/A | 240 | N/A | N/A | N/A | N/A | 48.7 | 380 | 1100 | 185 | 13 | Electric | Airconco | 69 | 56 | 15.2 | 500 | |