Generac VT1 9m Metal Halide Lighting Tower Diesel 1150kg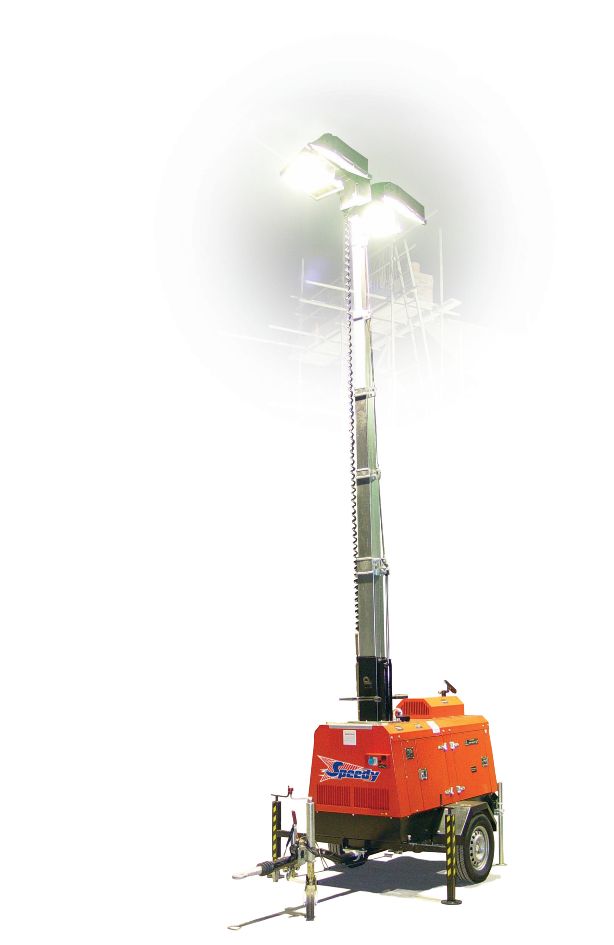 Generac VT1 9m Metal Halide Lighting Tower Diesel 1150kg
Product Code: 22/0083-h
9 metre road towable hydraulic lighting tower with 4 x 1000w metal halide lamps. 360deg locking ability on mast and 60 hours continuous running time. Complete with a 116 litre fuel tank.
Features and Benefits
ELCB protection. 240v output circuit breaker protection. Silenced. Reduces the risk of injury due to earth fault. Reduces the risk of overload and injury. Low noise pollution.
Specifications
| | |
| --- | --- |
| Area Coverage_min Lux of 20 | 4200m² |
| Decibel Reading: dB[A] | 65 |
| Fuel Tank Capacity | 116ltr |
| Lamp Watts: W | 4 x 1000w Metal Halide |
| Mast Height | 9m |
| Power Output | 9kva |
| Product Model | VT-1 |
| Rotation | 340deg |
| Running Time | 65hrs |
| Weight | 1.15t |
Product Comparison
| Product Name | Area Coverage_min Lux of 20 | Engine | Engine Displacement: cm³ | Engine: RPM | Fuel Tank Capacity: Ltrs | Fuel Type | Illuminated Area: m² | Lamp Type | Lamp Watts: W | Length [Transport]: mm | Length Deployed: mm | Lifting System: | Mast Rotation: º | Max. Mast Height: m | Max. Wind Stability: Km\h | No. of Lamps | No. of Mast Sections | Outlet Voltage: V | Output Power: kVA | Product Brand | Product Model | Sound Power Level: Lw dB[A] | Starting System | Towable: | Transport Height: mm | Transport Width: mm | Weight: kg | Width Deployed: mm | Decibel Reading: dB[A] | Fuel Tank Capacity | Mast Height | Power Output | Rotation | Running Time | Weight | Mast Height: m | Stabilisers | Light Output: lm | Max. Wind Speed: km\h | Height [Transport]: mm | Towing Coupling: | Voltage: V | Width [Transport]: mm | Engine Power: kW | Sound Pressure Level: dB[A] @ 7m | Transport Length: mm | Price |
| --- | --- | --- | --- | --- | --- | --- | --- | --- | --- | --- | --- | --- | --- | --- | --- | --- | --- | --- | --- | --- | --- | --- | --- | --- | --- | --- | --- | --- | --- | --- | --- | --- | --- | --- | --- | --- | --- | --- | --- | --- | --- | --- | --- | --- | --- | --- | --- |
| Vt2 Lighting Tower 7m | 20 | Yanmar L100-AE | 406 | 3,000 | 31 | Diesel | 2,000 | Metal halide | 4 x 400 | 1,300 | 2,280 | Manual | 360 | 7 | 80 | 4 | 5 | 240 | 6 | Towerlight | VT2 | 92 | Electric | No | 2,260 | 2,260 | 390 | 7,000 | N/A | N/A | N/A | N/A | N/A | N/A | N/A | N/A | N/A | N/A | N/A | N/A | N/A | N/A | N/A | N/A | N/A | N/A | £290.46 / week |
| Generac VT1 9m Metal Halide Lighting Tower Diesel 1150kg | 4200m² | N/A | N/A | N/A | N/A | N/A | N/A | N/A | 4 x 1000w Metal Halide | N/A | N/A | N/A | N/A | N/A | N/A | N/A | N/A | N/A | N/A | N/A | VT-1 | N/A | N/A | N/A | N/A | N/A | N/A | N/A | 65 | 116ltr | 9m | 9kva | 340deg | 65hrs | 1.15t | N/A | N/A | N/A | N/A | N/A | N/A | N/A | N/A | N/A | N/A | N/A | |
| Generac VT1 Eco 9m Metal Halide Lighting Tower Diesel 1115kg | 4200m² | N/A | N/A | N/A | N/A | N/A | N/A | N/A | N/A | N/A | N/A | N/A | N/A | N/A | N/A | N/A | N/A | N/A | N/A | N/A | VT1 ECO | N/A | N/A | N/A | N/A | N/A | N/A | N/A | 88 | 116ltr | 9m | 10kva | 360deg | 65hrs (extended with auto start stop facility) | 1.15t | N/A | N/A | N/A | N/A | N/A | N/A | N/A | N/A | N/A | N/A | N/A | |
| Towerlight VB9 9m Metal Halide Lighting Tower Diesel 970kg | N/A | KOHLER KD350 | 349 | 3,000 | 170 | Diesel | 3,600 | Metal Halide | 4 x 400 | 2,400 | 2,400 | Hydraulic | 340 | 9 | 80 | 4 | 7 | N/A | N/A | Towerlight | VB9 | 94 | Electric | Yes | 2,200 | 1,430 | 965 | 1,980 | N/A | N/A | N/A | N/A | N/A | N/A | N/A | 9 | 4 | N/A | N/A | N/A | N/A | N/A | N/A | N/A | N/A | N/A | £300.00 / week |
| Atlas Copco QLB60 8m LED Lighting Tower 240v 907Kg | N/A | N/A | N/A | 1,500 | 140 | Diesel | N/A | LED | 350 | 1,160 | 1,160 | N/A | 340 | 8 | N/A | 4 | N/A | 240 | N/A | Atlas Copco | QLB 60 | 88 | Electric | N/A | 2,750 | 1,160 | 970 | 1,160 | N/A | N/A | N/A | N/A | N/A | N/A | N/A | N/A | N/A | 154,000 | 80 | N/A | N/A | N/A | N/A | N/A | N/A | N/A | £470.00 / week |
| Generac VB9+ 8.5m LED Lighting Tower Diesel 945Kg | N/A | KUBOTA Z482 | 479 | 1,500 | 160 | Diesel | 4,200 | LED | 4 x 300 | 1,400 | 3,285 | Hydraulic | 340 | 8.5 | 80 | 4 | 5 | N/A | 5 | Generac | VB9+ | 88 | Electric | Yes | N/A | N/A | 945 | 2,396 | N/A | N/A | N/A | N/A | N/A | N/A | N/A | N/A | N/A | 122 | N/A | 2,580 | Eye Type | 48 | 1,400 | N/A | N/A | N/A | £350.00 / week |
| Generac VB9ECO 8.5m LED Lighting Tower Diesel 960Kg | N/A | KOHLER KD350 | N/A | 3,000 | 170 | Diesel | 3,900 | LED | 4 x 300 | 2,400 | 2,400 | Hydraulic | 340 | 8.5 | N/A | 4 | 5 | 240 | 5 | Generac | VB9ECO | 93 | Electric | Yes | 2,200 | 1,430 | 960 | 1,980 | N/A | N/A | N/A | N/A | N/A | N/A | N/A | N/A | N/A | 146,000 | N/A | N/A | Eye Type | N/A | N/A | N/A | N/A | N/A | £350.00 / week |
| Stephill SLT5000 4.5kVA 5.4m LED Lighting Tower Diesel 395kg | N/A | Yanmar L70NES | 32 | 3,000 | 34.0 | Diesel | 2,089 | LED | 4 x 200 | 1,200 | 1,660 | Manual | 360 | 5.4 | N/A | 4 | 4 | 110 / 240 | 4.5 | Stephill | SLT5000 | 92 | Electric | Yes | 1,930 | 860 | 395 | 1,940 | N/A | N/A | N/A | N/A | N/A | N/A | N/A | N/A | N/A | 100,000 | N/A | N/A | N/A | N/A | N/A | 3.6 | 67 | 1,200 | £300.00 / week |
| Stephill SLT6000D5 6kVA 5.5m Metal Halide Lighting Tower Diesel 295kg | N/A | Yanmar L100NES | 43.5 | 3,000 | 24 | Diesel | N/A | Metal Halide | 1,000 | 1,620 | 1,930 | Manual | 0 | 5.5 | N/A | 1 | 3 | 110 / 240 | 6 | Stephill | SLT6000D5 | 91 | Electric | No | 890 | 785 | 295 | 785 | N/A | N/A | N/A | N/A | N/A | N/A | N/A | N/A | N/A | N/A | N/A | N/A | N/A | N/A | N/A | 4.8 | 66 | N/A | £300.00 / week |