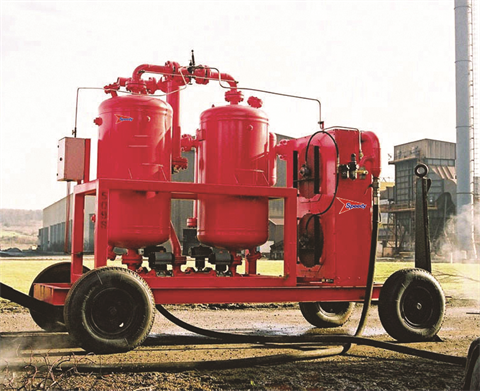 Dryer 1800cfm (24 Bar)
Product Code: 43/0920-h
Desiccant driers available from 400cfm to 4000cfm, at varying pressures.
---
Features and Benefits
Water separation. Condensate drainage points. Oil removal filtration. Dust filtration. Pneumatic operation. Dew point test point easily accessible. Easy to operate and monitor. Low noise emissions. Easily manoeuvrable. Guaranteed dew point of up to -65 degree Centigrade pressure dew point.
Specifications
| | |
| --- | --- |
| Air Quality ISO 8573.1 Class | Class 1-1 |
| Capacity cubic feet per minute [m³] | 2400 (68.6) |
| Crash Frame Options\Rig Safe | Optional |
| Decibel Reading: dB[A] | As Per Primary Compressor |
| Effective Working Pressure psi [Bar] | 350 (24) |
| Fan Motor Air Consumption | 14cfm (396 L/min) |
| Forklift Ports or Lifting Eyes | Both |
| Free Air Delivery cfm [m3\min] | See Primary Compressors |
| Height | 3.3m |
| Length | 6.15m |
| lifting beam required when loading lorry | No |
| Max inlet flow | 2400 (68.6) |
| Minimum Working Pressure psi [bar] | 60 (4) |
| Oil Aerosol Content to | 0.003 |
| Operational Weight | Available on Application |
| Overall Length including Towbar | 7.25m |
| Particle Removal to | 0.01 Micron |
| Pressure dew point | -40°c |
| Recommended Accessory | Dryers, PRV'S, Receivers, 2in Or 3/4in Air Hoses |
| Recommended Ancillary | Primary Compressor, Manifold, 2in Air Hoses, Receiver |
| Safe Working Pressure psi [bar] | 350 (24) |
| Standard Air Connection | 2 x 2in in and out |
| Suitable for hazardous areas | Options Available |
| Width | 2.76m |
Product Comparison
| Product Name | Air Quality ISO 8573.1 Class | Capacity cubic feet per minute [m³] | Crash Frame Options\Rig Safe | Decibel Reading: dB[A] | Effective Working Pressure psi [Bar] | Fan Motor Air Consumption | Forklift Ports or Lifting Eyes | Free Air Delivery cfm [m3\min] | Height | Length | lifting beam required when loading lorry | Max inlet flow | Minimum Working Pressure psi [bar] | Oil Aerosol Content to | Operational Weight | Overall Length including Towbar | Particle Removal to | Pressure dew point | Recommended Accessory | Recommended Ancillary | Safe Working Pressure psi [bar] | Standard Air Connection | Suitable for hazardous areas | Width | Price |
| --- | --- | --- | --- | --- | --- | --- | --- | --- | --- | --- | --- | --- | --- | --- | --- | --- | --- | --- | --- | --- | --- | --- | --- | --- | --- |
| Dryer 1000cfm | Class 1-1 | 1000 (28.3) | Optional | As Per Primary Compressor | 150 (10) | 8cfm | Both | See Primary Compressors | 2.5m | 3.75m | No | 1000 (28.3) | 60 (4) | 0.003 | Available on Application | 3.75m | 0.01 Micron | -40°c | Dryers, PRV'S, Receivers, 2in Or 3/4in Air Hoses | Primary Compressor, Manifold, 2in Air Hoses, Receiver | 150 (10) | 2in in and out | Options Available | 1.97m | |
| Dryer 1500cfm | Class 1-1 | 1500 (42.8) | Optional | As Per Primary Compressor | 150 (10) | 14cfm (396 L/min) | Both | See Primary Compressors | 2.62m | 4.9m | No | 1500 (42.8) | 60 (4) | 0.003 | Available on Application | 4.9m | 0.01 Micron | -40°c | Dryers, PRV'S, Receivers, 2in Or 3/4in Air Hoses | Primary Compressor, Manifold, 2in Air Hoses, Receiver | 150 (10) | 2 x 2in in and out | Options Available | 1.75m | |
| Dryer 1800cfm (8 Bar) | Class 1-1 | 1836 (52) | Optional | As Per Primary Compressor | 170 (12) | 14cfm (396 L/min) | Both | See Primary Compressors | 3.15m | 4.8m | No | 1836 (52) | 60 (4) | 0.003 | Available on Application | 6.6m | 0.01 Micron | -40°c | Dryers, PRV'S, Receivers, 2in Or 3/4in Air Hoses | Primary Compressor, Manifold, 2in Air Hoses, Receiver | 170 (12) | 2 x 2in in and out | Options Available | 2.5m | |
| Dryer 1800cfm (24 Bar) | Class 1-1 | 2400 (68.6) | Optional | As Per Primary Compressor | 350 (24) | 14cfm (396 L/min) | Both | See Primary Compressors | 3.3m | 6.15m | No | 2400 (68.6) | 60 (4) | 0.003 | Available on Application | 7.25m | 0.01 Micron | -40°c | Dryers, PRV'S, Receivers, 2in Or 3/4in Air Hoses | Primary Compressor, Manifold, 2in Air Hoses, Receiver | 350 (24) | 2 x 2in in and out | Options Available | 2.76m | |