Pramac E3250 2.9kVA Portable Generator Petrol 110/240v 38kg
---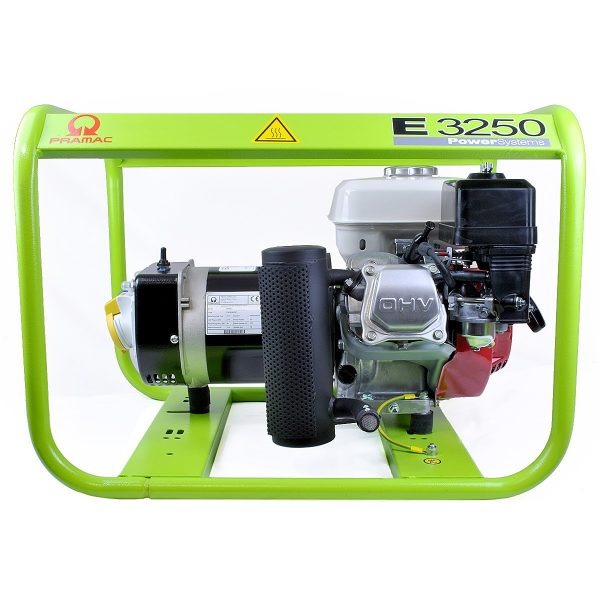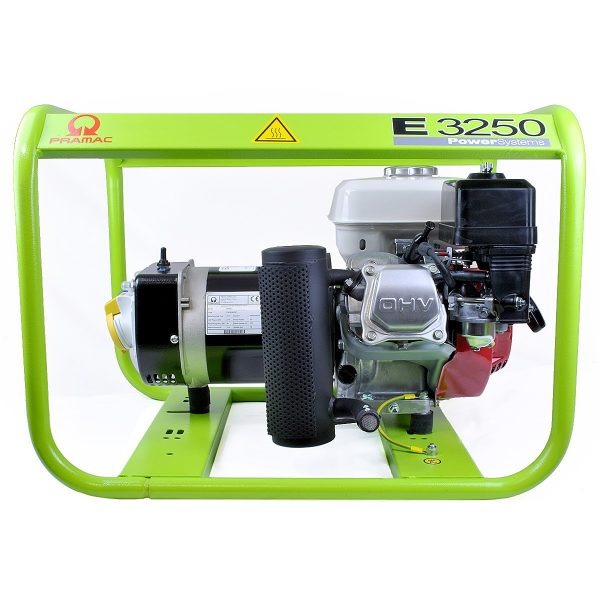 Pramac E3250 2.9kVA Portable Generator Petrol 110/240v 38kg
---
Pramac E3250 powerful and strong generator; easy to maintain and essential to all your activities. With a new and improved exhaust system, ensuring a high performance level.
POA
(Price On Application)
4 hour delivery
if ordered by 3pm
CHECK AVAILABILITY FOR COLLECTION
Note: changing dates or postcode applies to full order.
Features and Benefits
Frequency of 50Hz
Voltage of 110 and 240v
Single phase
Easy to maintain
Recoil starting system
New and improved exhaust system
Specification and product comparison
---
Engine:
Honda GX160
--
Honda GX200
Honda GX270
Honda GX200
Fuel Tank Capacity: Ltrs
3.1
3.1
3.1
5.3
3.1
Fuel Type
Petrol
Petrol
Petrol
Petrol
Petrol
Height: mm
455
400
415
540
415
Length: mm
625
640
610
690
610
Max. No Load Speed: RPM
3,000
3,000
3,000
3,000
3,000
No. of Outlets
1 x 16 (110), 1 x 16 (240)
2 x 240v 16a
1 x 16 (110), 1 x 32 (110), 2 x 16 (240)
1 x 16 (110), 1 x 32 (110) , 2 x 16 (240)
2 x 16 (110), 1 x 32 (110)
Output Power: kVA
2.9, [2.5 Continuous]
2.9, [2.5 Continuous]
3.4
5
3.4
Phase
1
1
1
1
1
Product Brand
Pramac
Pramac
Stephill
Stephill
Stephill
Product Model
E3250
E3200
3400HM4S
5000HMS
SE3400EC
Sound Power Level: Lw dB[A]
94
94
96
97
96
Sound Pressure Level: dB[A]
66
--
71
72
71 @7m
Starting System:
Recoil
Recoil
Recoil
Recoil
Recoil
Voltage: V
110 / 240
240
110 / 240
110 / 240
110
Weight: kg
38
38
42
59
42
Engine Type
--
Honda GX160
--
--
--
Fuel Consumption 100% load [L per hr at 50Hz]
--
1.17
--
--
--
Fuel Consumption 75% load [L per hr at 50Hz]
--
0.88
--
--
--
Sound Pressure Level: dB[A] @ 7m
--
66
--
--
--
Width: mm
--
458
420
--
420